Fresh from a 50th anniversary rugby shirt presentation on 12 October, the Vice-Chancellor was met by Jane Loveys, Director of ahs (Accommodation & Hospitality) and guided through a timeline of photographs showing hospitality outlets, events and staff over the last 50 years.
Wessex Restaurant was packed with colleagues who gave an insight into what happens behind the scenes to keep the University's bars, eateries and catering at the top of their game.
Jonathan Bowker, Deputy Hospitality Operations Manager introduced a film on 24 hours in Hospitality - from early breakfasts to late night events.  Serving 1,250,000 people a year is a big task and good customer service and team work are essential.
Mike James, Head Chef, said: "When I joined 13 years ago I used think of it as school dinners, now I'm serving royalty and developing our vegan offering - it's all about keeping the customer happy."
The department has a strong focus on ethical values and Patricia Echegaray, Deputy Hospitality Operations Manager, joined Anna Harvey, Team Leader Staff Catering Operations, to explain how they balance this with customer demand. Highlights include the Leave No Trace campaign with munch boxes being served at the end of the day to save food from going to waste, and a fourfold increase in the use of reusable coffee cups.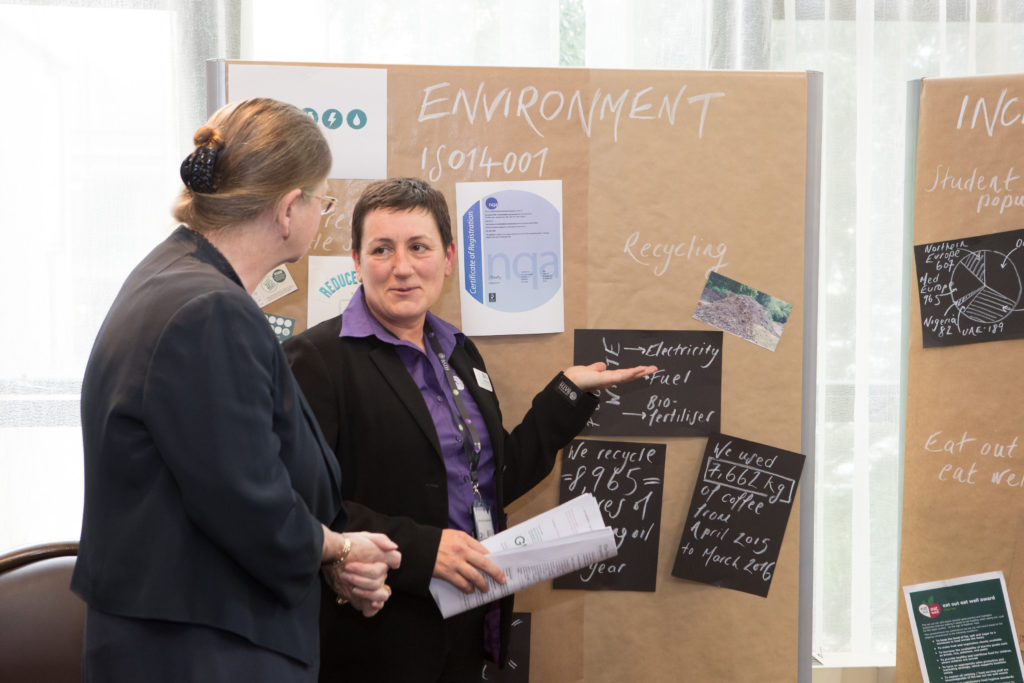 Piero Stobbia, Deputy Hospitality Operations Manager, and Paul Harvey, Bars & Restaurant Manager, spoke about the growth of hospitality, expansion of the outlets and the Eat & Drink scheme.  There was also a quick plug for the 50th Anniversary beer, now offered in the Parade Bar & Grill and Lime Tree.
Sarah Cashell, ahs Deputy HR Manager, then spoke about 'delivering the experience' and there was an opportunity to meet old and new members of staff.
Dame Glynis said: "Seeing the photos from the last 50 years reminds me that there has been a real sea change in hospitality at the University.
"Everything shows you are looking forward to the future.  This is the most important thing for the University - being ahead of the curve, innovating.
"It's so important to think not just about what we do on the Claverton campus but how we can build on this as we move into the city and London.
"In our 50th year, it is great to know we have the right people delivering our hospitality."