Thank you to everyone who took part in our Let's Talk meeting yesterday.
There were 169 of us in the Arts Lecture Theatre with many more of you watching the event online.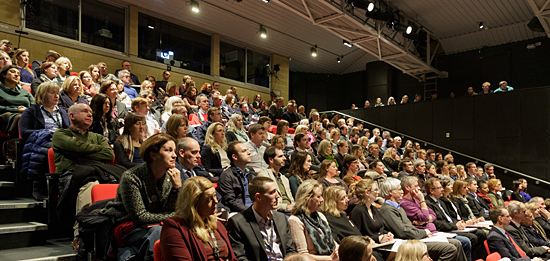 Dame Glynis welcomed everyone and introduced the main presentations.
Steve Egan, Vice-President (Implementation), outlined the implications of Brexit for us as a University and the support being offered to colleagues without UK citizenship: "We are an international University, everyone is of equal value and deserves equal respect.
"When I joined I was struck at what a welcoming community this is and as a community we must support our colleagues who may be experiencing a difficult time."
Richard Brooks, Director of HR, talked about our workforce, emphasising the enormous diversity of our staff and the range of skills they bring to making the University what it is.
Professor Peter Lambert, Pro-Vice-Chancellor (Learning & Teaching), outlined the changes facing the sector, including the Higher Education and Research Bill, and how our new Centre for Learning & Teaching has been shaped to ensure we adapt and thrive in this new environment.
There were follow up questions on the presentations and on more general topics including Manvers Street and the role of professional services in our new Strategy.
If you sent your question in advance and it wasn't covered on the day, you will receive a response to the email address you provided.
If you were unable to join us, you can now watch a recording of the meeting on the Let's Talk webpage.
Please take a minute to give us your feedback on the event so our future meetings can be developed and improved further.