On 2 November, just a week after the impressive rugby victory at The Rec which brought our 50th anniversary day celebrations to a fitting close, the Vice-Chancellor visited the Department of Sports Development & Recreation.
The Department has played a crucial role in building the University's reputation as one of the leading centres in the UK for high performance sport, a reputation enhanced by the six Olympic and four Paralympic medals won in Rio by athletes based on campus.
Stephen Baddeley, Director of Sport, guided Dame Glynis on a tour which took in all aspect of the Department's activity including Training & Development, Physiotherapy & Sports Science, Facilities Sales, Reception and Operations.  There was an opportunity to view the 50th Anniversary timeline on the Sports Training Village concourse, and to hear about the sports development project in Zambia and the campaign to improve our British Universities & Colleges Sport (BUCS) ranking.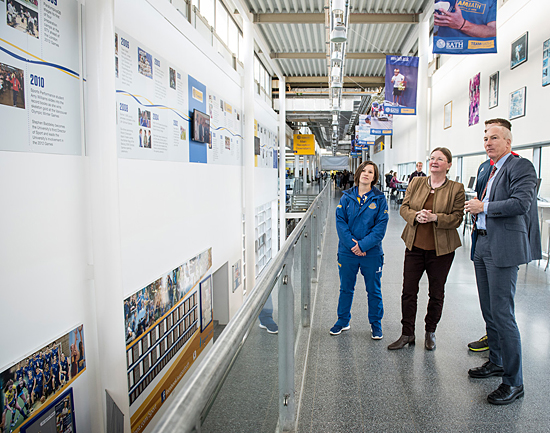 Rachel Smith, Athlete Support Officer, an Olympian and Bath graduate, introduced two student athletes - Jan Gosiewski, who balances a Mechanical Engineering PhD with international judo, and Nick Bell, who was identified as a top level rower in the British Rowing's Talent ID programme.
Barry Edwards, Physiotherapist, and Luke Vella, Strength & Conditioning Coach, demonstrated their multidisciplinary focus on injury prevention with the help of rower Nick, using a combination of manipulation and exercises to improve his range of movement and address muscle imbalances.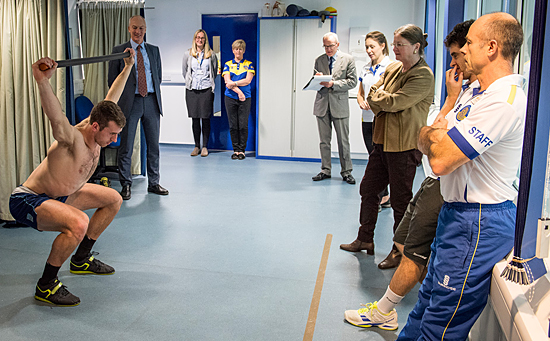 Catherine Evans, Facilities Sales Manager, explained how the Facility Sales Team balances the competing demands of students, high performance athletes and community activities before team members showed Dame Glynis the booking system in action.
Dame Glynis said: "What you do is tremendous. You provide our students with the opportunity to pursue sport at the highest level but also encourage those who wish to engage in sport for enjoyment or just to keep fit.
"11,160 students activated their Sport Passes in 2015/16 and this demonstrates the inclusive nature of your approach.  You are also key to our partnership with the City, providing an excellent range of facilities and services which benefit the local community."