The Vice-Chancellor's final visit of 2016 was hosted by Computing Services.
Accompanied by the Director, Andrew Lee, the visit started at the Help Desk in the Library, recently remodelled - with the help of our architecture students - to provide an up-to-date and welcoming space. Sherilyn Elmes, Service Manager, explained how the team dealt with an impressive 150 calls and online requests each day, assisting 2,000 people during induction alone.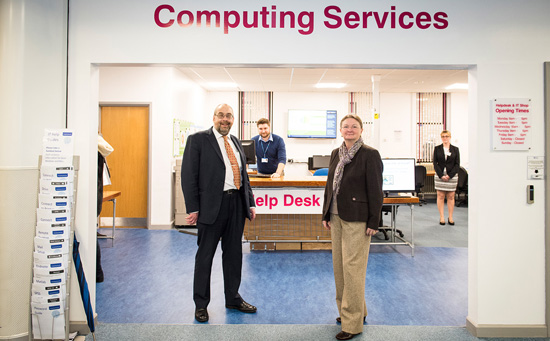 Rob Hyde, Service Manager (AV), showed how the Audio Visual Unit helped students to access online learning, advising that 19% of campus-based lectures were now recorded, with significant expansion underway and further enhancements planned for the next academic year.
The visit continued in 4 East South, where approximately two thirds of Computing Services staff have been based since the building opened in the summer. Steven Chapman, High Performance Computer Manager, explained how his team works closely with researchers to understand their needs and assist with data analysis across disciplines. Mark Acres, IT Security Manager, showed Dame Glynis how information is safeguarded. There was also a demonstration of Skype for Business - a messaging, meetings and screen sharing platform which is being rolled out across the University.
Andrew Lee said: "The visit was a wonderful opportunity for the professional teams in Computing Services to demonstrate our significant achievements to date as well as showcase some of the new technologies we will introduce over the next year to help deliver the University's strategy."
Dame Glynis commented: "Computer systems are now fundamental to all that we do as staff and students of the University. I was impressed to see that Computing Services is focusing on ways to improve our experience and support our ambitions. Technology has advanced so much over the University's first half century and it is reassuring to know that the Department is ready to support us as we embark on our next 50 years."