In celebration of National Women in Engineering Day (NWED) I was invited, on behalf of WESBath, to attend a British Gas Panel Event to celebrate this magnificent anniversary and discuss all matters of importance that surround it.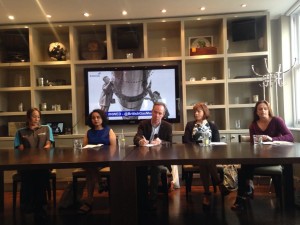 On 23rd June 2015, at the King's Road, London location, a panel of inspiration female engineers assembled to discuss the future of Women in Engineering as well as what can be done to promote Women Engineers in the future. The panel consisted of Claire Miles (Managing Director of British Gas Homecare), Nadia Abbas (British Gas Engineer and Success Coach), Dr Arti Agarwal (Professor from the School of Mathematics, Computer Science & Engineering at City University) and Dawn Bonfield (the President of our very own national Women's Engineering Society) while the event was chaired by Dickson Ross (Editor of Engineering & Technology magazine).
Promoting opportunities
For me, the event truly invigorated my motivation to promote engineering and STEM (Science, Technology, Engineering & Mathematics) subjects to younger female students. The topics of the 'Challenges and opportunities for women in engineering' and 'Why aren't women engineers aren't celebrated?' were deliberated in depth (videos of the matters discussed can be found on the following YouTube channel: https://www.youtube.com/playlist?list=PL1RSxqLw7W4Y6a5hw5h2ZkT5u9niRCvXI)
Issues that only women would encounter in the work place were a key feature of the discussions which I found incredible intriguing because, as a final year student, as I will be heading into the working world in a few short months! Issues such as retention of female engineers after they've started families, 'flexible working programs', how to get children interested in engineering as well as the cliché allegation that 'women distract men' in the workplace all need to be challenged and changed – but how? Now that's the important task we all need to work together to achieve.
Many thoughts of the panellists concerning these themes have been summarised in a British Gas blog:
The future
The future of engineering is bright; especially for females. As the concept of engineering grows and changes so do the skills and requirements of engineers. The future holds untold opportunities including the combination of humanities, technology, ethics and engineering as well as data analytics, robotics, artificial technology and green technology.  To increase the exposure of young females to engineering, the status quo must be defied while teachers and parents alike must encourage all their children into careers in STEM subjects. They are the future.
Awareness
The panellists all agreed that we, as a nation and engineering as an industry, needs more non-traditional routes into engineering and especially to recruit female engineers in different ways. Diversity is required in the breadth of 'pipeline' into engineering hence the industry must work with Universities and the Government to provide these routes. Finally, we need to create awareness of the amazing accomplishments engineers achieve, both publically and internally within companies, which in turn will attract more females. Engineers have the capacity to positively impact society which naturally appeals to females so the industry needs the support to overcome the underlying barriers that stop women from pursuing a career in engineering.
If you would like any more information about British Gas then have a look at their website.
Thank you for reading and I hope you feel as inspired as I was. #WESBath #NWED
Charlotte Thomas
Vice-Chair WESBath