While at the Bath WES end of year meal, kindly hosted by our sponsors Roger and Sue Whorrod, Roger asked if I would like to have a summer placement at his and his son's company, Investx. Investx is a parent company who purchases businesses then develops or creates products, purchases technologies and manages finances to rebuild or enhance the companies. Surprised but excited by the generous offer, I immediately agreed and arrangements were made for me to join the R&D team at Investx in June.
The team at Investx made me feel very welcome. During my placement, I worked closely with two engineers (Kit Buchanan and Luke Halton, both IMEE graduates from Bath) on the development of high output, explosion proof LED lighting systems capable of operating in extreme and hazardous conditions. I built and used test rigs for the LED drivers, programmed new equipment and recorded test data to present to the team. I produced a smart sensory and control network system, assembled prototypes, used surface mount components, NFC, LCD touch screen and capacitive touch sensors development kits and was also allowed and encouraged to use any piece of equipment in the lab, so I used them all; including various oscilloscopes, IR reflow oven, programmable DC loads, temperature and humidity test chamber, 3D printer and lots more. I also participated in design and manufacture meetings both at Investx and other partner companies and suppliers.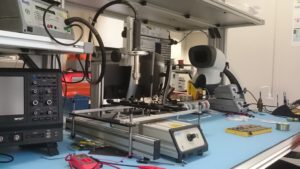 The placement was very enjoyable and stimulating, giving me the opportunity to apply some of the knowledge and skills gained from my first year studies to a real-life engineering project. In addition to helping develop my team working and communication skills, the placement gave me direct experience of the design to manufacture process and helped reinforce the value of methodical lab work and testing to ensure that products are reliable and meet the customers' requirements. I would like to thank Rob Whorrod, Peter Edgar and all the team at Investx, especially Roger who offered and organised such a brilliant, insightful and worthwhile work experience.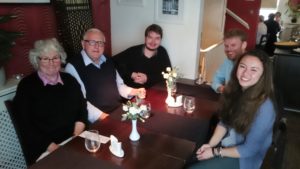 Elisa-Jayne Barber
Electronic & Electrical Engineering