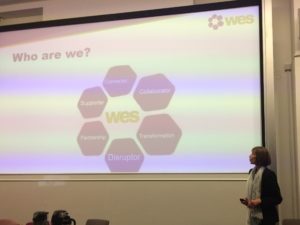 Being recently elected as the Co-Chairs of WESBath alongside with Leen Jabban, I was invited to attend the WES Student Groups Meeting held at UCL on 28th June, 2017.
The day commenced with an introduction given by the Chief Executive of WES, Kirsten Bodley. It was then followed by a short update regarding the Young Members Board (YMB) presented by the Student Groups and Universities Liaison, Dr. Jo Douglas (Ex-chair of WESBath). After that, Abbie Robison from Loughborough and Christie Sherlock from Glasgow shared their inspiring achievements on the career fair held in Loughborough and FEMENG partnership initiative in Rwanda respectively. Subsequent to the networking opportunity during lunch, we had an open forum to discuss issues and ideas about student groups.
The meeting was very uplifting no only because I had the opportunity to meet other passionate individuals, but I was also truly amazed by the good work delivered by other student groups. It was good speak to the President of WES, Benita Mehra, to learn more about what WES has to offer as well. In addition, having discussed with representatives from other universities, we will look into organizing inter-uni events in the future (Very exciting indeed! We will keep you updated!).
Massive thanks to WES for organizing this event and I look forward to working closely with other student groups.
Do you know? YMB is currently recruiting for 3 new members (deadline of application: 30th June, 2017). Should you get elected, you are required to attend meetings quarterly. To apply, you will need a supporting statement from the University (contact WESBath@bath.ac.uk). If interested, please email ymb@wes.org.uk.
Yui Yan WONG (Yannis)