WESBath has had a regular presence in Bath Taps into Science since its inception and this year was no different. There was no dearth of participation and enthusiasm both from the schools and our volunteers even with the lurking threat from the 'Beast from the East Mark II! The day started off on a busy note with our volunteers demonstrating the 'Steady hand game', comprised of electric circuits and the 'paper cup boomerangs', an all-time favourite demonstrating the Magnus effect. We also had DIY handouts of the activities for the students.
Not to forget the super adorable WESBath bugs again won the show!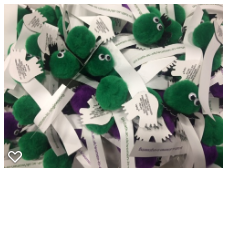 WESBath continues to promote engineering among the younger generation and especially girls through various outreach activities throughout the year and Bath taps is definitely our favourite!
We are happy to welcome new faces and volunteers for out outreach activities, which are very rewarding. Do drop us a line if you want to get involved with the society.
We have an informal 'Meet the Committee' event on 12 of April at 6 p.m in 8W 2.20 and this will give you a chance to meet and chat with the present committee before the committee elections for next year - so please come if you would like to be more involved.
Parimala