There are several challenges associated with solid waste management currently and as a chemical engineer, I have always wanted to tackle the problem to the best of my ability. It was during my undergraduate days that I first started thinking about recycling floral waste as I saw tonnes of flowers being discarded on a daily basis in my city alone. Fragrant flowers are an integral part of religious places, ceremonies and festivals in India and are often discarded after being used for a couple of hours. Their disposal is often poorly managed and escalates land and water pollution.There is a general demand for fragrant flowers from the essential oil industry and reusing the discarded flowers can be one way to extract essential oils and also sustainably manage floral waste. Hence, Retra was born.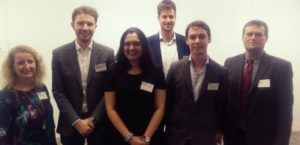 Moving to Bath for my PhD gave me the opportunity to turn the idea into reality. My journey as an entrepreneur started with the business plan competition and Dragons' Den in 2016. This was a perfect opportunity for a technical person like me to learn about developing an idea and formulating a business plan for a start-up. Although I did not win the competition that year, I was successful in raising funds from the alumni investors for the initial feasibility trials. I also attended the Social Enterprise and Innovation Programme, where I was able to envisage Retra as a social enterprise and develop the business plan further. When I entered the Business Plan competition last year, Retra had progressed from the idea stage towards product development, which helped me write the winning business plan. This would not have been possible without the support I continue to receive from the fantastic team at the Innovation centre and mentors who have guided me at various stages in the last 2 years. I am now working towards developing the MVP and testing the business model in the pilot phase year for Retra.
Research and entrepreneurship are the two things I am passionate about and I am enjoying the best of both worlds. Being a researcher has made me more resilient and organised and is helping me grow as an entrepreneur as well. I highly recommend the University Enterprise competitions to anyone (including doctoral students) looking for a launchpad for their ideas. It is indeed a very rewarding experience!
Parimala Shivaprasad    -   PhD Research Programme in Chemical Engineering