University of Bath, Skills Centre Course Leaders, Diana Hopkins and Tom Reid, have published a new Academic Skills Handbook designed to support your skills development.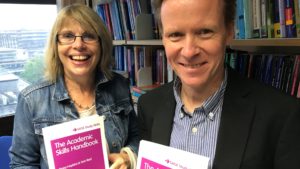 Hot off Sage Publishing's printing presses comes a new Academic Skills Handbook, written by two of our in-house experts, Diana Hopkins and Tom Reid, both Academic Skills Course Leaders in the Skills Centre. We are delighted to announce that this book can now be purchased online and is available to loan from the Library.
Designed to support undergraduate and postgraduate students across all subject disciplines in every aspect of your academic studies, the all-in-one skills toolkit provides practical guidance and tips in key areas of academic study including:
essay writing (of various styles)
lab reports
effective reading
presentations
seminars
listening and note-taking
group working
critical thinking and analysis.
You will also have access to an online annotated Samples Library of real-world student assignments, covering a wide range of subjects and written genres. With annotations highlighting structural and language conventions, you will be able to better understand what it is your tutor is looking for.
The Academic Skills Handbook drills down into the five core skills of effective communication: being accurate, being clear, being concise, being informed, and using an appropriate style.
University of Bath students are eligible to receive a 25% discount when purchasing the book through Sage Publishing, by entering the code UK13STBTH at checkout.