As the University of Bath launches a new digital skills self-assessment tool for all students, Sarah Williment, Deputy Head of the Skills Centre, explains what digital skills are, why they're so important and what the University is doing to help you evaluate and further develop them.
Today's Generation Z students are referred to as 'digital natives' – those born in the digital age who have grown up using smartphones, social media and a host of other technologies that simply didn't exist until relatively recently.
Whilst you may feel reasonably confident about your digital skills at the moment, technology continues to advance at a phenomenal rate and developing and expanding your capabilities in this area will be vital in order to live, learn and work in the digital society of the future.
Digital skills at University
As a result of Covid-19, much of the University's learning and teaching has moved online. You'll now be accessing recorded Panopto lectures and course materials on Moodle, the University's Virtual Learning Environment. Online teaching sessions with your tutors will run through Microsoft Teams and Zoom and assessments will take place on the Inspera platform. It's vital that you get to grips with this online learning environment as quickly as possible.
Along with day-to-day things like managing your finances through online banking, just some of the key digital skills you'll need to hone as a student include:
advanced online searching skills to research your assignments
using Microsoft Office to create and share documents, spreadsheets and presentations
backing up your work up in the Cloud and understanding the importance of information security
creating and editing digital content, e.g. graphics and videos
communicating, collaborating and networking effectively online
basic coding / programming skills, e.g. HTML5 to publish content online
managing your personal online image or 'brand', e.g. on social media.
Digital skills in the workplace
These core digital skills will also be vitally important when you move into the workplace.
The Government Skills Toolkit website, which launched during the lockdown, points out that:
82% of all job vacancies require digital skills
roles requiring digital skills pay 29% more than those that don't
in recent years, the number of digital jobs has grown almost three times as quickly as other occupations.
(Source: No longer Optional – Employer Demand for Digital Skills report commissioned by the Department for Digital, Culture, Media and Sport, June 2019).
A recent McKinsey report – The Next Normal – The Recovery will be digital (August 2020) - also highlights that Covid-19 has significantly accelerated the pace and scale of digitalisation.
Many employers are finding it hard to keep up with the dizzying rate of change. The University of Bath is the lead partner for the Institute of Coding (IoC), a consortium of universities and employers funded by the Office for Students and set up in January 2018 to tackle the UK's digital skills gap. The IoC is working with over 200 employers, many in non-tech industries, who are struggling to find staff with the digital skills they need and who need to upskill their employees.
A predicted 133 million new roles could emerge as a result of 'Industry 4.0' technology (the 'Fourth Industrial Revolution') over the next two years, according to eTail Europe.
Some of the more advanced digital skills employers are urgently looking for include:
programming, web and app development
artificial intelligence
UX design
digital product and project management
content, search engine, PPC and email marketing
search engine optimisation
social media
Cloud computing
data science and analytics.
The digital skills self-assessment tool
So how can you assess and develop your digital literacy?
As a starting point, the University of Bath is encouraging all students to use a new tool to self-assess their digital capabilities, identify strengths and areas for development.
The self-assessment tool is based on a framework developed by Jisc, the Joint Information Systems Committee, who provide digital solutions to the UK education and research sector.
The framework defines six elements of digital capability: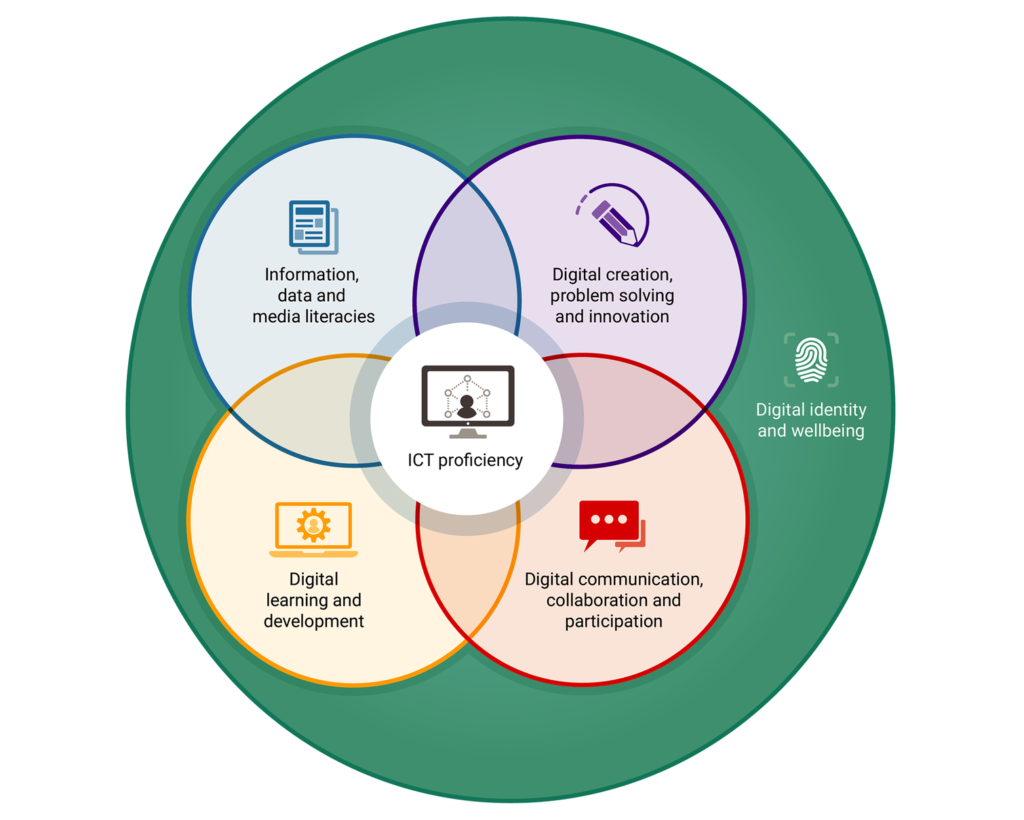 After completing a short online audit of your current skills, you'll receive a personalised digital capability report setting out your confidence levels in each category with recommended next steps and links to useful free resources for further development.
You can use the report to form your own digital skills development plan which you can discuss with your tutor and fellow students.
We recommend setting aside some dedicated time to regularly work through the resources in the areas you wish to focus on. You can then retake the self-assessment at regular intervals to see how the results compare and the improvements you're making.
You'll also be able to find additional digital skills resources and, in time, new training opportunities, on MySkills.
Next steps
It's really important that as many students complete the tool as possible, so we can see where the current skills gaps lie and how we can develop training opportunities and new resources to support your specific needs.
We'll also be exploring the potential role that students themselves can play to support this area, for example through digital skills ambassadors, peer mentoring and placement opportunities.
Some useful additional resources
Update: our year-long pilot of the digital skills self-assessment tool ended in July 2021 and it is therefore no longer available after this time. You can find out how student Skills Co-Creators used the tool to develop their digital skills in the following blogs: