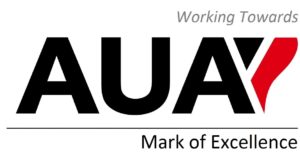 Author:  Ann-Marie Hartland, Director of Administration - Faculty of Humanities and Social Sciences
As we're working towards the Mark of Excellence, it has given us a great opportunity, not only to be accredited by the AUA for the support and value we place in the development of our staff but to reflect on how the framework has become embedded within our teams and the impact it has had.
Launched in March 2016 at the AUA's Annual Conference, the AUA Mark of Excellence is a new award for Higher Education Institutions which recognises that the organisation has demonstrated its commitment to working with the AUA Statement of Values and CPD Framework and has embedded them into its organisational development provision.
Only recently, one of our probationers commented on the comprehensive nature and clarity of her objectives, not only focussing on the tasks themselves but on the 'how' they should be carried out. It has taken time and commitment to get this far but for those who do fully engage, the framework is becoming increasingly helpful in identifying areas for development and training. It's also helping us as Faculty/School managers to ensure that we are tailoring our staff development programme to the needs of our teams. Building on our progress so far, we're hoping to embed the effective behaviours framework into our grading structure, so that career progression within the framework is more clear but for the moment, we will just be focussing on the assessment day and convincing our assessor that we truly are excellent!
We will update soon hopefully celebrating our success in achieving the award.