Author: Sarah Stead, Student Experience Officer - Faculty of Engineering and Design
A Workforce for the Future is how Richard Brooks summed up his fascinating talk about the current Workforce Strategy, agreed by Council at the end of 2016.
Richard started his talk on a slightly worrying note stating that when you google jokes about Workforce Strategy you get very few search results! But we didn't need to worry – Richard kept the audience interested and engaged with information and insights that gave everyone food for thought.
Richard described the strategy as a bridge between the University led drivers for change to making things happen and explained the importance of developing strategic leaders, actively managing talent, developing performance, building resilience and ensuring the university has lean, responsive, self-service procedures moving forward.
Personally I will take away his comment about performance targets "What is the point of setting targets when you don't know how you are going to meet them" I think we could all benefit from remembering that from time to time!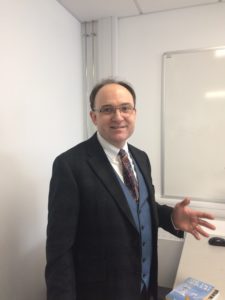 Richard Brooks
Director of Human Resources - University of Bath