Author: Alison Ryan, Faculty Coordinator - Faculty of Engineering and Design
On Friday 3 February I attended the AUA South Wales and South West Conference 2017 in Cardiff. Having never attended an AUA conference before, I wasn't quite sure what to expect, but I was really looking forward to finding out.
Chance to network
After an early start and a train journey followed by a bracing walk from Cardiff Central Station, we arrived at the Park Plaza hotel in good time for a much needed coffee and a pastry, or two! There was a good turn out from Bath as well as attendees from the Universities of Cardiff, Bristol, Exeter, Plymouth and Gloucestershire to name a few. This was a great opportunity to meet people from other universities.
The big picture
Our very own Angela Pater, also the AUA Regional Network Coordinator, opened the conference with a warm welcome and introduced the first speakers, Victoria Holbrook from Higher Education Funding Council for England (HEFCE) and Lisa Newberry from Universities Wales.
Victoria and Lisa discussed the future HE landscape, providing external perspectives of upcoming major changes and opportunities. Victoria explained that HEFCE would be replaced by the Office for Students (OfS) in 2018 and the OfS would also have a new focus as the single market regulator for HE. The opening talks were really informative and I particularly enjoyed learning more about the big picture of HE.

Doing the privilege walk
There were a range of workshops to choose from and for the morning session, I picked 'Ensuring Inclusive Education' run by Fflur Elin, the NUS Wales President. This thought-provoking workshop gave us a different perspective of how social situations and conventions could affect students in a variety of ways.
Fflur was a brilliant facilitator and had us up on our feet participating in the 'privilege walk', which was an activity designed to visually show how students could either benefit from, or be held back by, certain characteristics or situations (such as their gender or needing to work part time). We were each given a list of different characteristics and stood next to each other in a long line. We then took steps forwards or backwards, depending on the persona we had been given.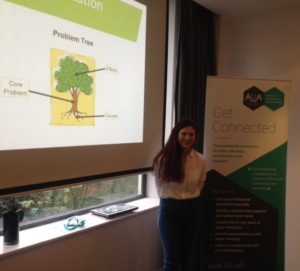 Inspirational speakers
There were many inspiring speakers and although I can't talk about them all here, I will briefly mention one. In the afternoon, Steve Egan did Bath proud and delivered a very engaging talk about his journey to his current role at Bath, Vice-President (Implementation). Steve's talk was very well received and included many amusing but also inspiring anecdotes about his career so far.
So when's the next one?
I really enjoyed the day; it was an interesting and valuable experience and I would definitely like to attend future conferences. It was a great opportunity to gain a broader understanding of HE, listen to a variety of talks and to meet other people working in the sector. If you get the chance to attend an AUA conference or event, sign up now!