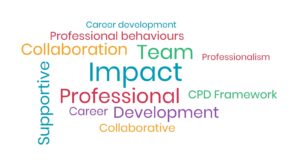 Find out how our Fellowship Friday initiative resulted in 100% success, with 6 new Accredited Members/Fellows at AUA Bath.
Why are we excited about securing this recognition, what value does it hold?
Being an Accredited Member of the AUA demonstrates your commitment to your own continuing professional development and in the case of the Fellowship, your commitment to the development of others too. Whilst the application itself can be completed over a relatively short space of time, it is the culmination of two or three years of commitment to ongoing professional development and acknowledgement of how this in turn, has impacted your own professional practice.
What did we do and how did we support each other to achieve our goals in such a short space of time? Here are five of our top tips:
1. Identify a leader who takes responsibility for setting clear objectives with expectations and timelines. We started in October and agreed a deadline in mid-December, with milestones and reminders along the way;
2. Create a memorable strapline. We went with 'Five for Fellowship' and 'Fellowship Friday' where we asked people to set aside an hour in their diary every Friday to focus on their application;
3. Make it easy for people; if there is something that you can do to save time for others (such as collating information on AUA training/events sessions at your institution) then share your work. The application is personal to you but some of the data won't be, so why not save someone some time;
4. Meet regularly as a group to share thoughts and get ideas or inspiration from others as to what you could include;
5. Identify a buddy, who can act as a critical friend and provide constructive feedback as you are working on your application
Why was this approach so effective?
Don't take my word for it, here's some feedback from Loretta Gibson, one of our new Fellows: What worked so well for me was the structured approach we took to achieving this outcome. This includes identifying a leader responsible for setting and achieving the target number of applications, setting a clear objective with expectations and timelines, and creating a supportive group of colleagues working together on a common goal. Having 'Fellowship Friday' encouraged me to put time aside to focus on my application. The group sessions we had helped me to share my thoughts and get ideas and inspiration from others, and by 'buddying up' we had an opportunity to give and receive constructive feedback. I think I can say with certainty that if we didn't take this approach I would have put my application in the 'things to do when I have time' basket. Working to timelines with the on-going support and encouragement of others really made this happen for me. Going forward we now have a group of us who can act as mentors to the next round of applicants. All of this is very clearly showcasing the benefits of being a part of the AUA in a very real and tangible way.
So all that remains is for me to congratulate my 'fellow' Fellows Loretta Gibson and Suzanne Jacobs and our new Accredited Members, Jenny Medland, Elise Merker and Rachel Acres!  Congratulations also to Sally Lewis, who automatically became an Accredited Member after successfully completing the PG Certificate through the AUA. 
If you want to join the next cohort, please do get in touch: aua@bath.ac.uk or a.hartland@bath.ac.uk