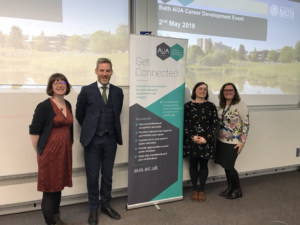 by Jenny Medland.  
Bath's first AUA Career Speed Networking event for members only saw professional services staff from across the institution speak about their varied career paths: the opportunities, decisions, and experiences which brought them to where they are today.
The event began with a brief introduction from each of the four speakers on their professional journey to date. Speakers came from across the institution - Helen Featherstone (Head of Public Engagement, Marketing and Communications), Loretta Gibson (Director of Administration, Engineering & Design), Gordon Roberts (Assistant Director, Computing Services) and Kate Elliott (Staff Development Manager, HR) – and this range in representation was matched by their diverse experiences. From Australia to Kylie Minogue, the speakers' talks covered the practical and personal factors which influenced their career pathways and demonstrated the variety of experiences and backgrounds of Bath's staff.
Speakers then rotated round tables for 'speed networking' where attendees had the chance to ask them questions about their career journeys, hear their top tips for success and any advice (or warnings!) they might have.
Personally, I found the event covered all the most useful bits of networking – making connections, learning from others – without the awkwardness of walking up to a stranger and bombarding them with questions. Hearing about the diverse paths speakers had taken and their message about the importance of taking chances and trying new things also emphasised the huge range of options and routes available when planning your career. I was also struck by the fact that although the journeys were different, the messages were the same: the importance of transferable skills, of networking, and having the courage to take risks and follow your values.
At a busy time I can find it difficult to justify taking 'time out' to concentrate on personal development. This event reminded me of how important that time can be in motivating and focusing my mind on the future. I look forward to more of these events!
The University's coaching network provides more opportunities to benefit from the skills of peers and following the speed networking event, an informal mentoring scheme has been established with three mentors and mentees already matched.
Hear from one of the speakers in this blog by Helen Featherstone:
Career Development Networking Event : Hear from one of the speakers