By Alana Fiorelli, Faculty of Engineering & Design

AUA Conference, Manchester 2019: Joanne Austin and Madelaine Sandall from RMIT University, Melbourne
There is more to Australia than an attractive climate, great coffee and a welcoming culture.
I have been lucky enough to live, study and work in Melbourne. Now having travelled and lived overseas, I realise the benefits close to home.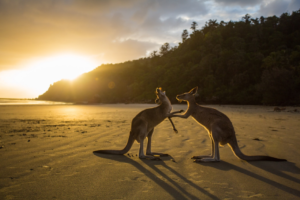 *Photo courtesy of Unsplash
At the most recent AUA conference, #AUA2019 that took place in April, I was lucky enough to attend two talks on global inclusivity, engagement, and staff development - both presentations held by RMIT University's Joanne Austin and Madelaine Sandall.
The morning talk consisted of 'Leading change from the bottom up', with the afternoon talk focused on 'Creating the largest Business School in the Asia Pacific region'.
The facts:
It is big! - RMIT has one of the largest number of students in Australia, with an impressive 89,000 enrolments;
21,000 of these are international students;
The College of Business has the largest undergraduate cohort in Australia with over 20,500 students;
The College of Business has partnerships in Singapore and China spanning 30 years.
Why they did it:
The last significant restructure for RMIT was in 2012. With stakeholder confusion, the University's standards lacked staff motivation and career progression. Keeping up with the demands of future student learning, a realignment of Academic Services that focused on streamlining processes, innovative practices and establishing new relationships was the way forward.
'We're big and we're global'
Their future vision was to create a combination of global university, Asia-Focused business school with global collaboration throughout. With year round operations across nine areas, including internationally based offices it would seemed like a difficult job to implement without any disruptions.
How they did it:
This could only be done with buy in from the top and the engagement of affected staff.
Customer Care Culture Project 2017
Using the ADKAR Model the project's overall aim was to balance the complexity and volume of work, with new training and development for staff, in order to incorporate and benefit all students, staff and academics. Key aspects of this were:
Getting across the right message - 'we work together to come up with the best solution';
Management worked closely with all levels of staff to develop regular contact, feedback sessions and advice;
Using LEAN and AGILE thinking, along with the RACI model to identify stakeholder responsibility;
Incorporating a review of functions;
Staff and student focus groups, solutions teams and change champions.
Looking at quick wins, the Schools shared communication through Professional away days, staff awards, inductions, events, and visits, - all ensuring staff engagement.
What was the outcome?
Greater collaboration with stakeholders;
Improved services to students;
Clearer roles and responsibilities for staff;
Stronger career progression;
Focus on staff capabilities and professional development;
Global mind-set and global learning;
Links with offices located overseas helped to create belonging for staff and students, allowing the same support and services throughout;
Student councils helped manage change implementations for new courses, allowing for global experiences and student mobility;
Global leadership programs offers students the opportunity to develop themselves as leaders, broaden industry networks and grow cultural intelligence.
However, this was not without the negative.
Challenges associated with lose of productivity and issues transitioning made it difficult to engage staff who did not want to change. However the overall majority of staff felt it was a good transition in the end and beneficial to the university as a whole.
Personally, I found the sessions very useful in terms of managing process change and improvement, as this was something that was of interest to me. Overall, I felt that Joanne and Madelaine approached it well, with detail and confidence, demonstrating that this kind of practice can be achieved within a large organisation if the process engages the right people at the right time.
Alana Fiorelli