Psychology student Hannah talks through her first look at a new mental fitness app available to University of Bath Students.
On first glance, looking after our physical fitness seems a lot more simple than looking after our mental health. Eat healthily, get some exercise, drink lots of water.
But what if there were a fun, quick and simple way to train our mental fitness as well?
Meet Fika – the new Mental Fitness App.
Mental fitness can be thought of as your ability to manage your feelings, thoughts and responses to life and all its challenges. Good mental fitness allows you to process things positively and healthily – in turn improving your general wellbeing. Just like physical fitness, once you've trained your skills and got in shape, you can feel the positive effects in your day-to-day life, not just when you're being challenged.
So, how can YOU develop your mental fitness and become emotionally, cognitively and behaviourally fit? Fika is like exercise for your brain. You complete quick, 5-minute, bitesize exercises to train your mental fitness in seven areas:
Confidence
Connection
Stress
Meaning
Positivity
Focus
Motivation
The exercises help you to develop these skills and use them positively when dealing with life's challenges. Through this training, you give your brain the tools it needs to handle things calmly, rationally and optimistically.
EVERYONE has mental health. Everyone has mental fitness. Fika is about developing your own individual skills and training your brain to help you cope before things get too challenging.
So what does FIKA actually look like?
First, you complete a 5 minute quiz to assess your personal mental fitness and create your unique skill profile. You get an overall score of your mental fitness, and a breakdown of how skilled you are in the seven areas we talked about before.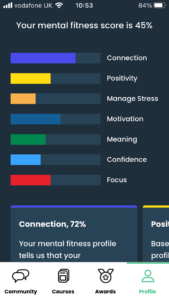 Based on this, you can then look at the booster courses for each of the skills. This was actually really fun, it's cool to see a colour coded breakdown of what your brain is good at and with what it maybe needs a bit of training. You can also track your personal mental fitness journey through regular quizzes to see how your brain is shaping up (and get some nice awards along the way!).
To connect with other people working on their mental fitness, you can check out the community section, with short daily videos, questions and activities – and see how other people are working on their mental fitness. You also have the option to create your own posts for the community – whether that's to share tips, ask questions, or just say hi! Working out is always better with friends – whether you're working out your body or your brain.
The app itself is definitely bright, cheerful and positive, with a focus on building skills not 'fixing problems'. It's very easy to use – and comes with helpful, optional reminders to complete your 5-minute exercises. Each exercise starts with a quick introduction from the experts on what the particular skill is, why it's important and how you can train it in yourself.
Overall, then, while I may not be getting all that physically fit this lockdown, I'll definitely be giving my brain a good workout.
You can download Fika: mental fitness from your app store and sign up with your University email or visit the Fika webpage for more information.