Between 1 October and 30 November, we're competing against 10 other universities to recycle as much waste as possible, with the chance to win £15,000 towards a University event! The NUS has teamed up with Coca-Cola to run a national recycling competition between universities, challenging students and staff to recycle as much waste as possible throughout the two months.
To help us to win the RecycleLeague, remember to recycle all of these items in the correct bins:
Paper
Cardboard
Cans
Glass
Plastic
Food waste
Plus, recycle oral hygiene products and snack packets using the Terracycle boxes on campus.
Jamie Agombar, Head of Sustainability at NUS, said, "We are pleased to build on our commercial relationship with Coca-Cola through this fun pilot. Recycling is so important, but it has become less of a priority for many students as commingled recycling bins and waste to fuel have become the norm. We are going to change that and make recycling the default on our campuses through friendly competition."
Gordon McSkimming, Sustainable Packaging Manager at Coca-Cola European Partners, said "We have a vision of a world without waste and sustainability has been at the heart of our business for many years.  Our bottles and cans are 100% recyclable and we will be doubling the amount of recycled plastic we use in our bottles by 2020 – so encouraging people to recycle more often will help us to get that material back so that we can make it into new bottles and cans again. Alongside our community programmes it's great to be working with NUS on RecycleLeague giving campus communities the chance to be rewarded for their recycling efforts."
Here's a few tips to help us all be at the top of our recycling game:
Check out the Leave No Trace page for more information on what to recycle, and where
Use the right bin for your rubbish – if you live in University accommodation, find out more about how to recycle in accommodation
Opt for a reusable coffee cup instead of a single-use one, to reduce your non-recyclable waste
Join The Exchange, our reusable cup scheme in The Pitstop which allows you to swap your reusable cup for a clean one, or an exchangeable cup token
Bring your own container when buying takeaway food to save 20p across campus outlets
Make the most of our water refill stations by carrying a reusable water bottle
Reduce food waste by grabbing a Munch Box; bring your own container to our outlets at certain times, and fill it with leftover food for just £2.75
Use the Terracycle boxes on campus to recycle oral care products (like toothbrushes and toothpaste), as well as snack packets (like crisps and nuts)
Remember to pick up a Leave No Trace loyalty card, to get £2 off food and drink when you collect nine loyalty stamps
Use the charity donation banks across campus to donate any unwanted clothes or belongings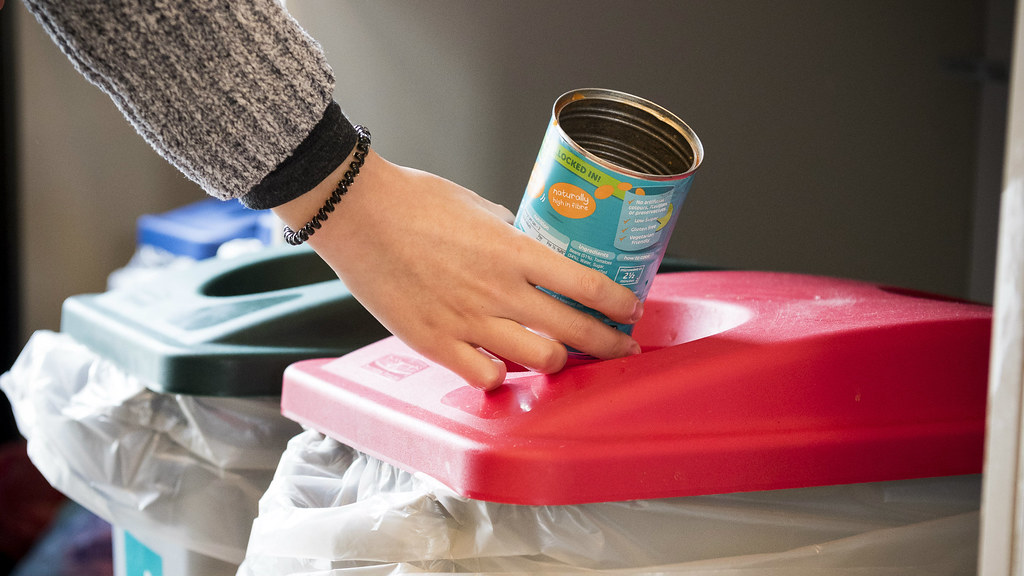 The overall winner of RecycleLeague will win £15,000 to further enhance environmental projects on campus, as well as to throw a sustainable party for students and staff to celebrate their win. There are also prizes up for grabs for the biggest increase in recycling on campus, so every item recycled really counts.
University of Bath will be competing against Bath Spa University, University of Birmingham, Cardiff Metropolitan University, City University of London, King's College London, Keele University, Nottingham Trent, University of Warwick, University of Winchester and University of Worcester.
Look out for the Protect What Matters Crew on campus, who will be encouraging everyone to get involved throughout the eight-week challenge!