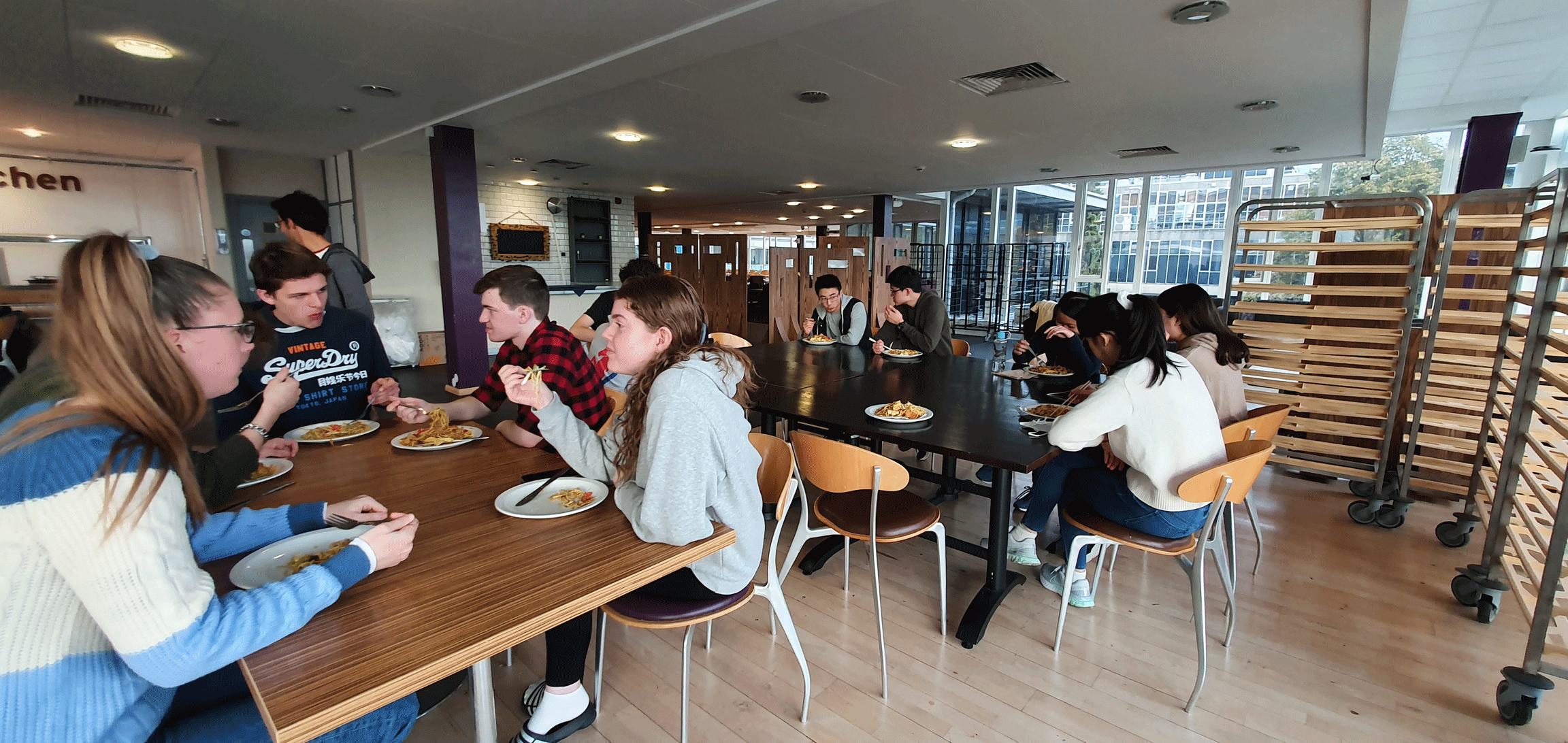 Our Student Living Assistant Kylene tell us all about the cooking lessons that have been taking place this semester 
Have you come into Uni clueless in the kitchen? Don't worry we've all been there. Luckily, as part of this year's Residence Life Programme, the Student Living Support Team has some great cooking lessons lined up for you and your friends!
The sessions run on a sign-up basis so when you see this come up in your Teams or email, book it quick! In these lessons, the dish you're cooking is first introduced by the kitchen staff members. They'll show you the ingredients you need and how to prepare them. They give insightful tips and tricks not only with knife work but also with dietary alternatives.
Veg Noodle Stir Fry
For the first two weeks of term, Cheryl and the other lovely kitchen staff members demonstrated how to cook vegetable noodle stir fry. She showed us where to source the ingredients from, along with the gluten free and vegan noodle options.  After we were shown how to prep the veg with Cheryl's amazing knife skills, the students were all able to give it a go themselves. It was a perfect opportunity for them to bond with their friends as well as meeting new ones.
After the prep, the kitchen staff stir-fried everything together to a tasty meal.
The best part of the whole experience, in my opinion, was then sitting down after the vegetable prep with a nice warm full plate of vegetable noodle stir fry. When the session was done, students were sent recipe cards so that they can make them at home.
It was lovely seeing so many of you join and enjoy the sessions. I hope it helped you settle into the first two weeks of Uni!
Tomato Sauce Pasta and Garlic Bread
After two weeks of the vegetable stir fry, we moved onto tomato sauce pasta and garlic bread- a staple in any student's dinner rotation. This two-part meal was again demonstrated by the amazing kitchen staff in Claverton rooms.
We were shown how to make a basic tomato from scratch but were also introduced to ready made alternatives for busy students. Like the weeks before, vegetable prep demonstrated and done by everyone afterwards. It was wonderful to see familiar faces from the other sessions, who have drastically improved their knife skills and confidence. Everyone was anticipating making their own garlic bread. The students even customised their own by adding green or red pesto into the mix.
Once the prep work was done, the pasta and garlic bread were cooked in the kitchen. I distinctly remember when the garlic bread was done as I was in the middle of a conversation with a student when suddenly, we both stopped at the scent of garlic. Everyone was so happy with the outcome of their meals in the end. Although stuffed, everyone left with an extra portion of pasta and garlic bread. Of course, like the other weeks, a recipe card was sent out to the students for them to make it all again later.
I can't wait for the Christmas themed dishes coming up in the next week where we'll be making Christmas cookies and mince pies!! Sign-up to them now and hopefully I'll see you there.