Written by Tatiana, one of our student Climate Champions.
2023 is here and to start the year right we want to share with you how you can recycle well – so get clued up on the waste and recycling rules at the University of Bath.
Nearly one fifth of all recycling in England and Wales cannot be recycled.  This is due to four in five households adding one (or more) items to their recycling bins, which are not accepted locally. This contamination reverses efforts that others in the community have made to ensure they have recycled correctly. We must work collectively – starting this year for a sustainable Bath, and a more sustainable world.
It is critical as a community that we get better at effective 'pre-cycling' – sorting waste correctly before collection both on campus in student accommodation, and off campus in the city.
Below are some general tips on how you can start:
FOOD WASTE
Do put sealed bags of food waste into the bin
Do not put food packaging in the food bin
GLASS
Do put bottles and jars individually into the bin without the non-glass lid and ensure they are washed out.
Do not put plastic bin bags in the bin (you can re-use them)
PAPER & CARDBOARD
Do break down/flat pack your cardboard
Do not put tissues in this bin – they go in the general waste bin
PLASTIC & CANS
Do check what plastic can be recycled as some are still non-recyclable and will go into general waste
Do not mix plastic and general waste as this is a common mistake!
GENERAL WASTE
Do put in here all items that cannot be recycled in any other category, except for items like batteries that have special bins for them to be disposed of. You can find these on campus.
Do not leave bags on the floor as this will attract pests.
To encourage you all to keep up your resolutions we will be running round two of the 2022-23 recycling competition on campus in March where participants can win a prize for their kitchen group. Our last winners managed to increase their recycling rate by 12% to an 87% recycling rate – an incredible improvement. So, get practising if you would like to get spending!
Below are the guidelines for recycling for anyone who is unfamiliar with recycling at the University or watch our Instagram reels also linked below for more guidance.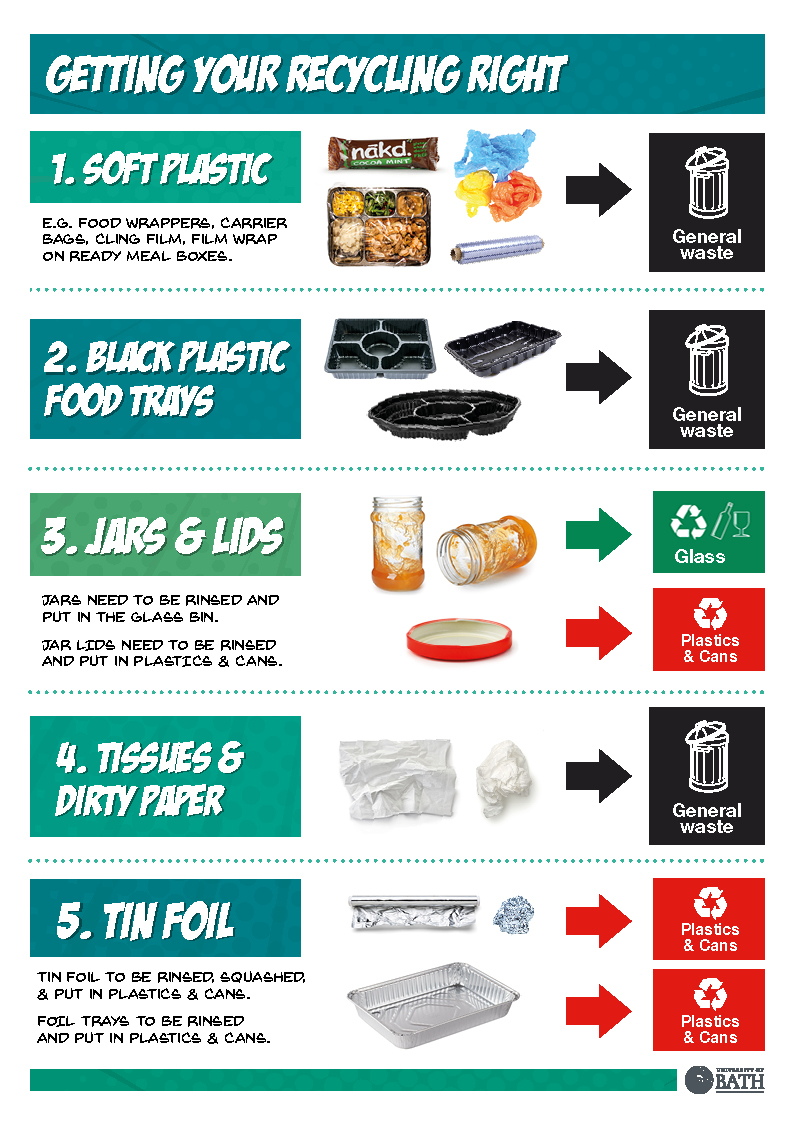 > What rubbish goes in what? Find out here