On the 11th of November 2015, CR@B held its 12th symposium at the University of Bath. As usual, it attracted a range of speakers from both within and outside of the university, as well as a large audience of people all interested in learning more about cancer research. The programme can be found here.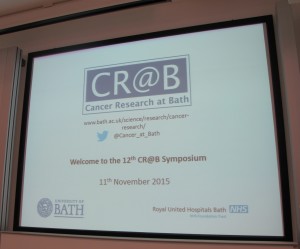 The first speaker, Professor Diana Eccles of the University of Southampton, gave a presentation on personalised medicine used in breast cancer. The goal of the research is to identify genetic differences that can increase susceptibility to developing breast cancer to give patients a more informed choice of treatment options.
Dr Dorothy Goddard and Dr Mark Beresford of the Royal United Hospital then gave a presentation on the use of genomics in cancer research. Genomics is the study of the genes that make us who we are, and one of the goals of this is to identify the genes that make people more susceptible to developing cancer. If we know which genes are more likely to be of concern, we can identify people who are at risk sooner and therefore act sooner if they do develop cancer. The Royal United Hospital in Bath is involved in the West of England Genomics Partnership, a group aiming to bring the research forward as part of the national 100,000 Genomes project.
Dr Michael Harris, GP and visiting lecturer at the University of Bath, spoke about the influence of primary care (GPs and pharmacists) on speed of diagnosis of cancer. It has been found that survival rates 1 year after diagnosis in the UK are lower than the European average. To find out more about why this is happening, the Örenäs Research Group was founded to explore the differences between healthcare systems across Europe. One of the ongoing studies by the group is into what GPs in each country would say to a patient with specific symptoms. If the differences between different primary care systems are identified, it may be possible to find out exactly what makes the 1 year survival of cancer different across Europe.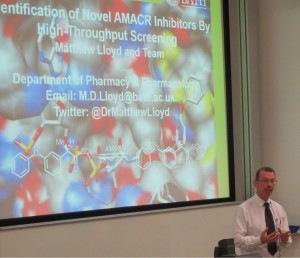 One of the Department of Pharmacy and Pharmacology's senior lecturers, Dr Matthew Lloyd, was next to give a presentation. He spoke about his research into new drugs for treatment of prostate cancer. The new drugs are identified using high-throughput screening, a process that allows a lot of different compounds to be tested for suitability as a drug. These drugs are targeting a protein called AMACR, which is known to be increased in prostate cancer. If a drug can be found to reduce the activity of AMACR, it may be possible to prevent progression of the cancer.
Building on this, Dr Lloyd's PhD student Guat Ling Lee spoke about her work in identifying which amino acids are most important to the function of the protein AMACR. Knowledge of this will further help in the development of treatments for prostate cancer.
Finally, Kunal Tewari gave a presentation on his work as a PhD student in the Department of Pharmacy and Pharmacology. His research focusses on the production of new drugs based on 5-aminolaevulinic acid for use in photodynamic therapy.
Overall, this was another fantastic symposium and a great opportunity for staff and students at the university, as well as the wider network consisting of a huge variety of professionals, to learn more about current cancer research. The networking offered as part of this will continue to expand the research among CR@B members, with more fascinating presentations to come in future.
The 13th CR@B symposium will be held at the University of Bath on Wednesday 27th of April 2016. The event is free to attend and registration is now open.