Thank you to everyone who came along to our stall at Refreshers Fayre! It was amazing to see so much interest in helping out at future events. Hope you guys found it informative. Congratulations to Rebecca Lewis and Emma Garland who won the jar of jelly babies and CR@B t-shirts! The correct answer was 72.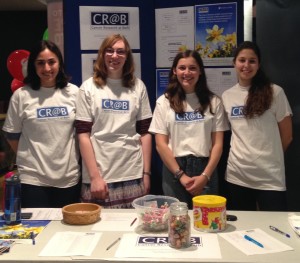 This week, I just wanted to tell you a little bit about my experience at Cambridge, where I was involved in cancer research first hand.
I started at the beginning of summer, a week after we broke up from Bath. I moved straight into halls at Downing College - just a 5-minute walk from where I was working at the Department of Biochemistry in the TLB lab. Cambridge is such a beautiful city, and I'd recommend visiting if you haven't before!
I was working with Dr Qian Wu (my supervisor), on her project investigating the recruitment of the BRCA1 protein to DNA damage sites, where it helps to maintain genomic stability.  BRCA1 mutations (which are found in patients with hereditary breast and ovarian cancer) can increase a women's risk of developing breast cancer from a 12.5% lifetime risk to 55-75% before the age of 70. Patients with these mutations often have a double mastectomy (like the famous case of Angelina Jolie) to reduce their risk. By further understanding the mechanism of recruitment and function of BRCA1, the design of potential treatments for these cancers can be aided.
Our paper was published last month in Molecular Cell.
I was really lucky with the people I worked with. The entire lab were so welcoming and friendly and I still stay in contact with many of them. I learnt so much in just two months thanks to my very patient supervisor and my incredible PI (Professor Sir Tom Blundell), who despite his extremely busy schedule made the time to discuss my progress every single week.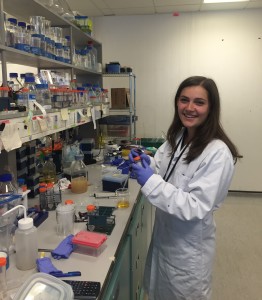 If you can ever get involved in helping out with research of any kind, take every opportunity you can. Personally, it inspired me to spend my placement year doing academic research, and to get more involved with Cancer Research at Bath. For this I'll be forever thankful to the TLB lab! Unfortunately, internship positions for 2016 have already been filled. However, if you are interested in applying for Summer 2017, contact Sir Tom (tom@cryst.bioc.cam.ac.uk) by November 2016.
Our university is also investigating breast cancer. Our researchers are involved in a team of scientists that have recently shown DNA previously considered to be "Junk" may play a role in preventing the disease. Cancer Research at Bath (CR@B) has several specialists in cancer research, including Dr Adele Murrell, Dr Julie Turner-Cobb, and Dr James Turner. .