'Inside cancer: how genes influence cancer development' is a free, introductory online course developed by researchers at University of Bath, on the FutureLearn platform.
Inside Cancer aims to be a beginner's guide to cancer genetics, targeted at anyone interested in the topic - from sufferers to academics. The course is now running in its second year, being available in the spring and autumn of each year, and has already had over 30,000 participants, from more than 90 countries.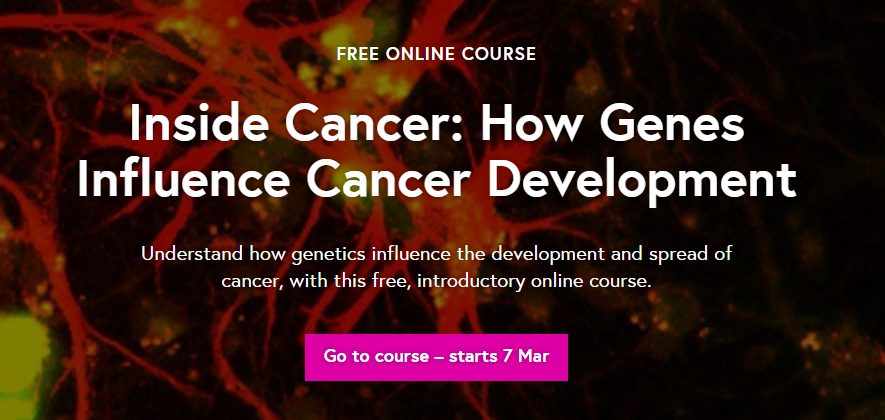 It is entirely a collaborative effort, with many leading researchers from the University of Bath and consultant oncologists from Royal United Hospital in Bath involved in its teaching, many of whom are CR@B members. When Inside Cancer was first designed, all of the academics sat down together at the first session to decide its structure, and that is the format that remains today.
The course is six weeks long, structured into four main sections: basic principles of cancer (week 1); the genetics of cancer, DNA mutations and their importance, and epigenetics (week 2); cell signalling and typical hallmarks of cancer (weeks 3-4); and finally diagnostics and cancer therapy (weeks 5-6).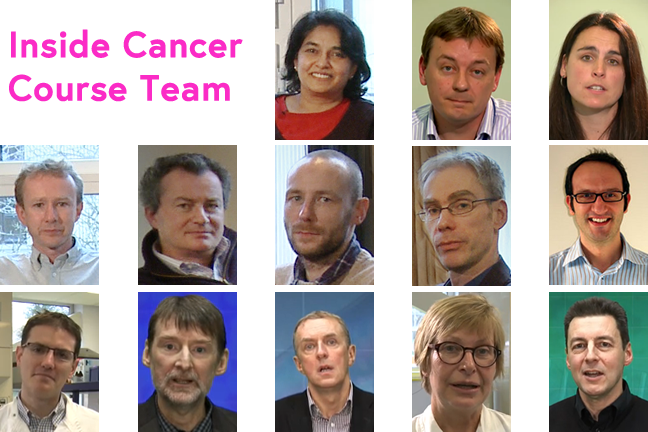 Additionally, every year, a clinical oncologist is invited to give a live lecture to end the course, most recently Dr. Tania Tillett, a consultant medical oncologist from Royal United Hospitals Bath, who spoke about malignant melanoma (a type of cancer that develops from pigment-containing cells known as melanocytes, often occurring in the skin). Gordon McVie, former Director General of Cancer Research UK (1996-2002), gave the first lecture in the series when the course first began. He, along with Umberto Veronesi, also established ecancer.org, a website dedicated to both cancer professionals and patients for news, research, e-learning and videos in the field.
The lead educator, Dr. Momna Hejmadi, a Senior Fellow in the Department of Biology & Biochemistry at University of Bath, wanted to run this MOOC (Massive Open Online Course) due to a personal interest in free and global education for all. It began as a 'trial run', being the first FutureLearn course developed at University of Bath, and has been extremely well-received by learners, with 98% of participants saying that they would recommend the course. A major part of the FutureLearn approach is discussion with others on the course, and the 'buzz' around the content and seeing their benefit has been extremely rewarding for the educators.
Registration for the upcoming Inside Cancer course is now open, to start on March 7th.