Sunday 13th March was the day of the Bath Half Marathon, where thousands of people ran 21km for hundreds of different charities- including many related to cancer. Amongst these were Macmillan Cancer Support, Marie Curie Cancer Care and CoppaFeel.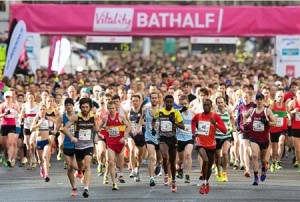 Charities like Macmillan Cancer Support and Marie Curie Cancer Care are both involved with supporting people and their families through their illness by offering expert care and guidance. At the University of Bath, the psychology department are working with Royal United Hospital on how best to emotionally support survivors. With the rapid development and success of new treatments, this is becoming a more and more important area. Their research has involved interviewing cancer survivors, and developing a booklet that contains informational and emotional support targeted at the main key concerns and difficulties they had found.
CoppaFeel is a charity aimed at preventing late diagnosis of breast cancer. They do this by ensuring that people:
-       know what their breasts should look and feel like normally
-       check their breasts regularly throughout their lifetime
-       know the signs and symptoms of breast cancer
-       have the confidence to go to the doctors if they find anything not quite right.
Researchers here at The University of Bath are developing probes for the early diagnosis of breast, colon and prostate cancer. They are using luminescent particles tagged with antibodies that bind only diseased tissues. To give you an idea of the impact of this research, it is thought that by early detection:
-       90% of breast cancer cases will survive, compared with only 15% if found at the most advanced stage of the disease
-       70% of lung cancer cases will live for at least one year, compared with only 14% when found late.
-       Between 5000-10000 lives are saved across the country.
If you want to run the half marathon next year, you should consider running for our charity. We will be looking into becoming one of the official race charities, but in the mean time you can fund raise as an 'own place' runner by registering through the general public scheme and creating your own JustGiving page.  As one of the 2016 runners, I can tell you from personal experience how great it feels to cross the finish line.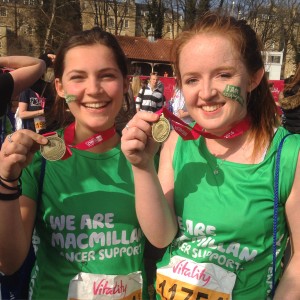 The run was surprisingly fun, and there's such a great atmosphere on the day. As we were too late to sign up to be 'own place' runners where we could support CR@B, my friend Annie and I signed up to run for Macmillan Cancer Support (another very worthwhile charity!). Between us, we raised over £1500- and even more if you include GiftAid.
If you want to make a difference, sign up now…
(sign up before the 1st April 2016 and you can get a £5 Early Bird Discount!)