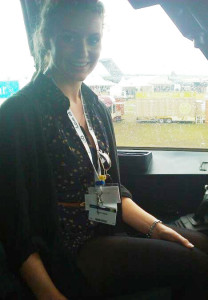 As recently mentioned on the CSCT news, DTC students Jessica Sharpe and Rhodri Jenkins won a trip to Farnborough Airshow as special guests of CSCT partner EADS.
Here's a short report on the experience from Jess:
On the 13th July, I attended Farnborough International Airshow as a guest of EADS after winning a poster competition. The morning was spent wandering around the various stalls and exhibitions, my favourite of which were a remote controlled robotic arm designed for use in space, an unmanned aerial vehicle display, and a talk from Paolo Nespoli, an astronaut who had travelled into space abroad the Space Shuttle Discovery.

From there I went to the EADS hospitality area, where I was provided with a fantastic lunch alongside members of the EADS Innovation Works UK. Following this, we got taken on private tours of the EADS aircraft, the Vulcan and the new A400M, and then were taken into the press
area where we could sit on the balcony and watch the flying displays. All in all it was a very successful day which I enjoyed greatly.