On Friday 21 and Sunday 23 April 2014, Cohort 5 took part in the annual Bath Taps into Science Festival. The Friday event took place at the Founders Hall at the University of Bath and was aimed at groups of children from local schools. The Sunday event took place at Green Park Station and was open to all members of the public. Our theme this year was "Another Way to Power Your Day!" and was aiming to inform about renewable and alternative energies, and what we're doing towards this in the CSCT. This is Matt's  account of the two-day event. 
Science is the basis of society, and ensuring that future generations have a progressive understanding in this area is of utmost importance.
2,000 energetic children entered the science fair at the University of Bath, and they were not disappointed. The CSCT students had set up a stand with activities ranging from hands-on activities such as building a fruit battery to interactive activities like generating electricity from bikes and knowledge based activities like the "fuel ballot".
There was something for everyone, and the energy reflected in the bright smiles on each child's face was unmistakable. The main attraction was the bouncy balls, with more than 700 youngsters all eager to make their own balls. It was a simple activity where children could learn about polymers while producing something they could take home with them.
Once the children were satisfied with their bouncy balls, they went on to build a fruit battery. Batteries are storage devices used in everyday life, and it can be said that we are dependent on them for our use of mobile phones and tablets. However few people actually know how these work. By building a fruit battery children learn more about how electrons are transferred along a circuit and actually observe an LED lighting up once the circuit was complete.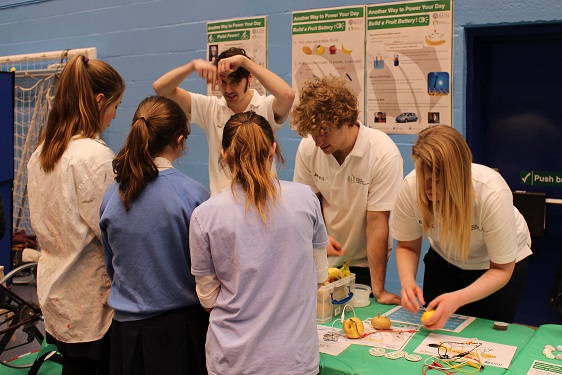 Following the batteries came the bike. This is a device that transfers physical energy into electrical energy, which was stored in a battery. This powers an amplifier which was playing music for everyone to hear. They learnt the importance of storing energy using a battery, and children started to realise that to generate electricity energy is required, which would have to ultimately come from fuels.
These fuels were the next point of interest in the fuel ballot supported by the fuel box. Each individual had the opportunity to choose their own fuel of preference, with the aid of a dart board. This led to some interesting conversations about the fuel for the future, with the overall winner being solar power.
On Sunday the scenario was different, with a number of families visiting our stand. We had lots of parents engaging in conversations about fuels. Surprisingly, a number of adults voted for nuclear energy as the energy for the future, which was second only to solar power!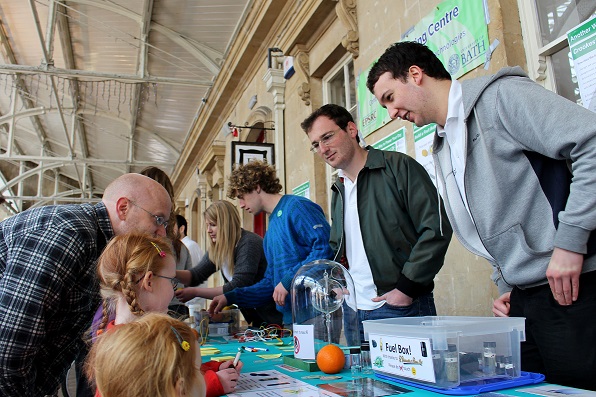 Public engagement is very important for scientists, as they can interact with the general public to discuss their work and expand their ideas on what is needed in common culture, thus adapting their research to community needs whenever possible.
In case you missed it, we will be doing it all again at the Cheltenham Science Festival, 3-8 June 2014.