This post about the second day of our annual Summer Showcase was contributed by first year student Tristan Smith.
Day 2 was a packed day, and it truly did show the full breadth of activities that the DTC covers through all of its students and partners. From a brilliant introduction by BASF on the key challenges in bio-based and biodegradable polymers and the potentially different answers to both to an intriguing introduction to one of our newest partners, the University of São Paulo in Brazil.
For the first time this year we have been able to have DTC alumni return and share how their time at the DTC helped to shape their careers and what they are doing now. Today we had Tom Forder, reflecting on his PhD in polymer chemistry, and talking about his new work, mainly on the alternative uses for PLA, a bio-derived, bio-compatible polymer that has a wide range of potential uses beyond the plastics market.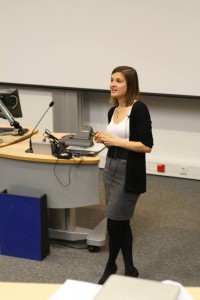 Another highlight of the day has to be Sarah Abou-Shehada's update on her current research using Lewis acids for the activation of pyridines. As a molecular biologist I would not say I am qualified to comment on the chemistry involved. However, I was impressed with her ability to communicate her research, which I would call 'hardcore' organic chemistry, to people with no knowledge of the topic and felt quite capable of following and understanding the work that she has done.
One of the key challenges as the DTC moves forward into the CDT phase of its existence is the creation of the new theme centres and leaders. There is going to be much more emphasis in guiding and focusing current and future research around these new focal points:
Healthcare technologies
Energy and water
Processes and manufacturing, and
Renewable feedstocks and biotechnology.
Over lunch today we had the first meetings of the members of the groups, the students who would potentially contribute and any industrial or overseas collaborators that could contribute. The goal of these preliminary workshops was to begin to define these themes and try to clarify the key research questions that need answering.
I attended the feedstocks and biotechnology workshop. The meeting was heavily populated by current and future students as well as industrial partners from NREL, OBIC and Almac. Most of the time was given over to a debate on the role of industrial partnerships in PhD projects, with some very interesting conclusions. However, at the end we did agree on four key research questions that our industrial partners are worried about that could potentially have a big impact on the future work in the CDT.
As a final note, congratulations again to Lisa Sargeant who was awarded the Vice-Chancellor's Postgraduate Prize for Public Engagement with Research. Awarded for her brilliant and continuing work in public engagement in science and in particular her talk about her work using an oleaginous yeast for biofuel production. The day ended with a showcase of the activities the different cohorts have prepared for various public engagement events such as Cheltenham Science Festival.