This post about the third day of our annual Summer Showcase was contributed by first year student Oliver Weber.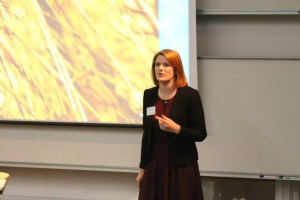 Wednesday at the Summer Showcase was kicked off by Dr. Chris Chuck, one of the Whorrod Research Fellows of the CSCT, talking about his group's research. This was  Fraeya Whiffin of the 2011 DTC cohort, who spoke to us on emulsions and substitutes for palm oil using yeast that can be cultivated on waste.
Also fuelling the morning's discussions were Solange Baena from Airbus Group Innovations and two more DTC students, Heather Parker and Lisa Sargeant, who are working, respectively, on fuels from lignin and microbial lipids. Overall, the morning session gave an excellent overview of how the CSCT contributes to the development of fuels from renewable resources, as well as a broader picture of how we might go about deriving our fuels more sustainably in future.
After rejuvenation by measured application of caffeine and carbohydrates, we changed tack drastically to hear from several speakers on materials for energy conversion. Professor Aloysius Soon of Yonsei University, South Korea, gave us a fascinating talk on single atom platinum catalysts supported on titanium nitride and I suspect there are now several DTC students harbouring intentions to travel out to Yonsei for future collaborations.
DTC students Dave Miles, Ibbi Ahmet and Mako Ng took us through their work in zinc oxide, tin sulphide and copper zinc tin sulphide materials for solar cells, while Dr. Andy Johnson of the University of Bath gave an impassioned account of the benefits of chemical deposition methods for thin films. Professor Dave Worsley of SPECIFIC and Swansea University then told us about scaling up of perovskite solar cells, and how some carpet adhesive affected the cutting edge of transparent conducting materials technology.
We wrapped up the day with two workshops, first on the benefits and trials of internships from industrial partners and the older (and wiser?) years of the DTC. We then heard from Jan Kuras of Chemistry Central, who gave us some insight into scientific writing and publishing. Fatigued, but infinitesimally less ignorant than we started out on Monday, we packed up our posters and said goodbye to another vintage year for the CSCT Summer Showcase.