The following blog is contributed by Suzy Wallace from the 2014 Cohort.
---
On the 26th of October I presented my research on the potential earth abundant and non-toxic solar cell absorber material CZTS (Cu2ZnSnS4) at the IUMRS-ICAM 2015 conference for materials research on Jeju Island in South Korea. We attended three days of the conference where research was focused on a wide variety of different advanced, nanostructured and novel materials for various applications.
Wearable thermoelectric devices seemed to be quite a popular topic! A thermoelectric material is able to use a temperature difference to generate electricity, so the idea would be to use your own body heat to, for example, charge your phone! Research therefore was focused not only on making the devices more efficient and cheap but also to be flexible and durable. Conveniently, Jeju also happens to be a tourist hot-spot at the southernmost part of South Korea and a great place for hiking! So I managed to squeeze in a quick half day of hiking up Hallasan Mountain on our last day on the Island before we headed back to the mainland to visit universities in the capital city, Seoul.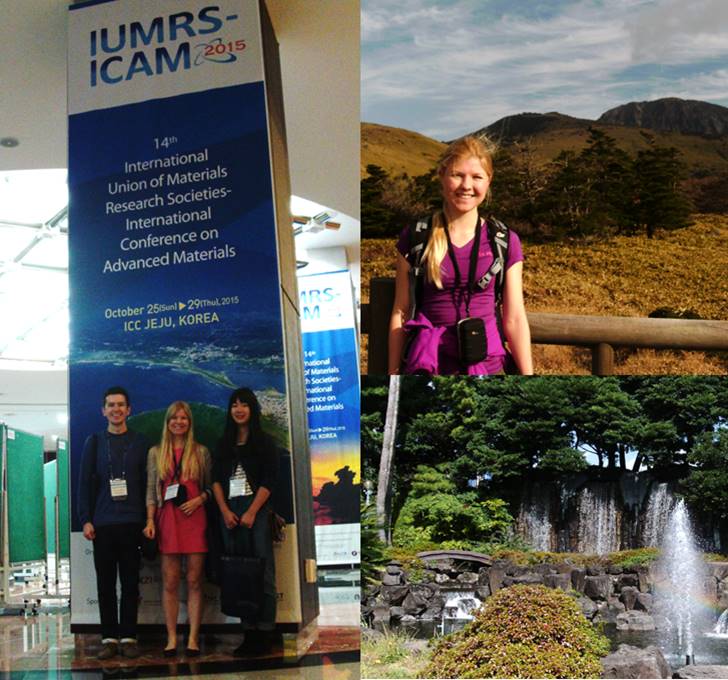 What a city Seoul is! I could write a whole blog just on Seoul alone but I'll try to refrain.
Whilst in Seoul we visited two research groups, that of Professor Aloysius Soon at Yonsei University and that of Professor William Jo at Ewha Women's University. Professor Soon's group are focusing on computational research on nanomaterials and Professor Jo's group synthesise and characterise the solar cell materials that we model computationally in my research group. Both groups made us feel incredibly welcome and all the discussions provided lots of opportunities to ask questions both about the Science and Korean history and culture. I particularly liked when one of Professor Soon's students (John) was explaining to me how to pronounce bibimbap (a very tasty Korean rice dish that can be served in a hot or cold pot bowl with all sorts of additions such as egg, vegetables, meat, seafood, kimchi and hot sauce), he told me to say the middle syllable as 'bim like electron beam'.
I also thought that Professor Soon's description of Seoul summed it up pretty well  – convenient. There's so much to see and do and everything is easy to get to using the subway, the food was great and you could get food pretty much anywhere and anytime. The people were really friendly and there was a really interesting fusion of old and new with remainders of the old city walls (referred to as the gates) dotted around the city next to big sky scrapers (the Dongdaemun gate is shown in a photo below).
Another great aspect of Seoul for me was the close proximity of yet more mountains! So I was able to go to Bukhansan National Park for rock climbing at the weekend… and as it was Halloween some fancy dress was also involved. When I was out-and-about climbing and sightseeing at the weekend, I spoke to quite a few different people and was struck by just how interested people are in scientific research, especially when it relates to the environment. I chatted to some American tourists while I was looking for a particular tourist attraction in Seoul (Namsan Tower), and it turned out that they were members of an environmental organisation back in the states. Then, when I was out with the climbers and the topic of 'what do you do' came up in conversation, we got to have some really interesting discussions on the way up to our climbing route (and also whilst drinking some Korean beer and soju after!). I even heard about a new energy technology for the first time from a couple of the climbers – supercapacitors – so I scurried off to google them to learn more the next day!
So I'd say you learn a lot from listening to talks at conferences and engaging in discussions there as well as during university visits, but there's also no need to limit yourself to only talking about Science there! Even during the 12 hour flight back from Seoul I had an interesting conversation whilst queuing for the loo with someone from IBM on how Watson (the question answering computer system designed to answer questions posed in natural language) could be really useful for helping scientists to keep up to date on rapidly developing areas of research (perovskite solar cells sprung to my mind immediately!).
It's surprising just how many people are interested in scientific research and how much you can learn in rather unusual settings!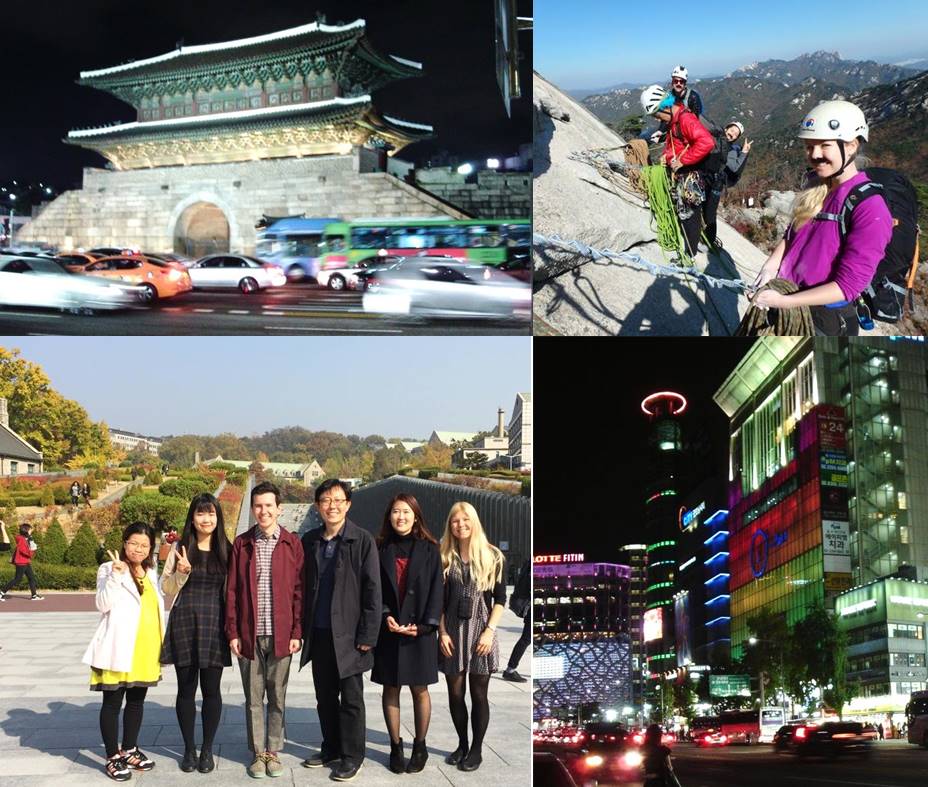 Suzy is working towards her PhD on 'Overcoming the efficiency bottleneck of metal sulfide solar cells' with Professor Aron Walsh, Professor Chris Bowen and Professor Mark Weller