This post was contributed by George Gregory.
---

Keen to gain industrial experience, I spent three months at Syngenta in Jeolotts Hill, Bracknell. Seeds such as corn and soya are coated with active ingredients (AIs) namely pesticides and herbicides to ensure a good crop yield. To reduce "rub-off" of the coating and the generation of dust, which is hazardous to farmers, polymers play an important role in binding AIs to the seed surface.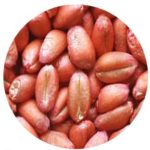 Working within the formulation technologies team, I undertook a systematic investigation using a Design of Experiments (DoE) approach to investigate how typical polymer properties impact on the coating quality. Amongst many other techniques, a neat image analysis tool was used to quantify the seed coverage.
In total, I was involved in four different projects gaining experience with a range of innovative technologies and coated over 75 kg of seeds bright red (as well as my lab coat) - a dye used in the coating formulation to indicate the AIs present. Working towards the common goal of food security, the theme underpinning everything I observed seemed to be a strong collaboration between people of different expertise (someone had PhD in nozzles!).
---
George is in her final year in the CSCT working towards her PhD on "Cyclic carbonates from sugars and CO2: synthesis, polymerisation and biomedical applications" with Dr Antoine Buchard, Professor Matthew Davidson and Dr Ram Sharma.