Little did I know when saying goodbye to Brazil back in May, I would be returning to its sunny lands sooner than I thought – in fact six months later. I was thrilled when I heard I would have the opportunity to return and I could not wait to go back there. Three weeks in Brazil during its summer months… count me in!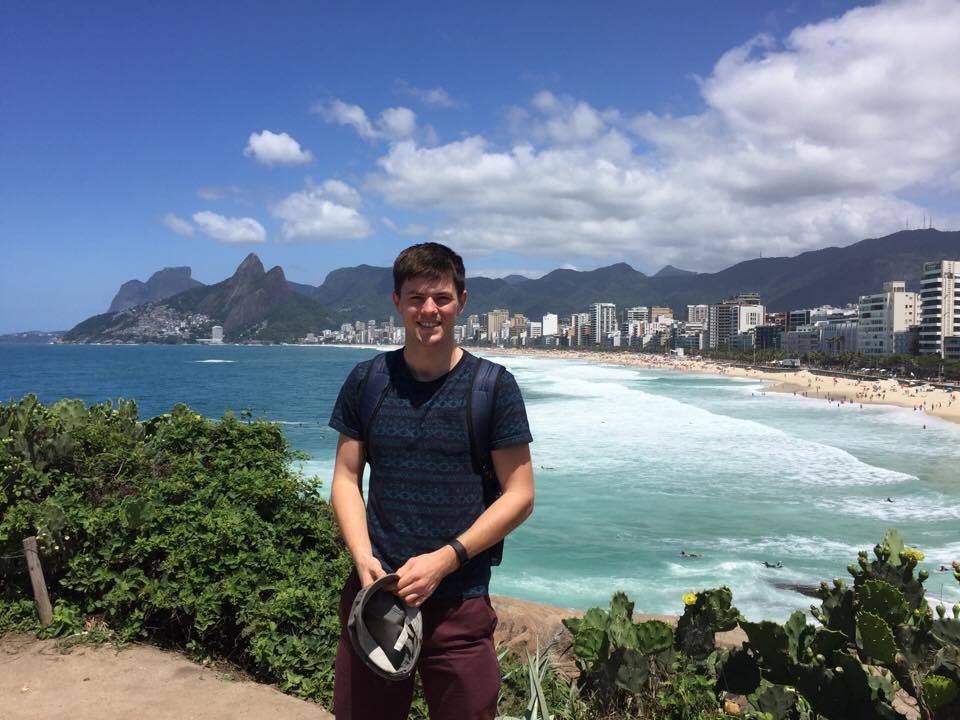 However, upon arriving in São Paulo airport I was greeted by a torrential rain storm (think back to the conditions of the Brazilian Grand Prix if you saw it) which lasted for a few days. Not the glorious sunshine I had gleefully expected and what the BBC weather "app" had promised me. So with my excitement slightly dampened and sun cream undisturbed I made my return to the University of Campinas (Unicamp), where I had worked for two months back in spring.
This time my visit saw me out of the laboratory, replacing safety specs for a scientific poster, as I was to attend and talk at the Four Continents University (U4C) Colloquium, along with Jon Chouler and Leighton Holyfield of the CSCT. The event focused on 'Sustainable Systems and Societies: Energy, Environment and Policy Frameworks'. By bringing together academics and students from around the world it aimed to build a network of research collaborations to help tackle current global challenges in sustainability. The institutions involved in this network are Stellenbosch University (South Africa), Zhejiang University (China), Unicamp (Brazil) and University of Bath (UK). Experts from the sciences, engineering and policy research had been gathered in Brazil to share knowledge and identify synergies between institutions to confront these global issues.  As someone who'd previously only attended a traditional "bread and butter" scientific conference, this was a new and exciting experience for me.
A major part of the workshop was its panel discussions, in which members from all institutions presented their views and debated key topics such as bioenergy, sustainability & polices. These sessions were very informative as they gave a real insight as to how other countries perceive and approach overcoming environmental challenges very similar to those we are facing. For example, this was apparent when talking about biofuels, which are sometimes criticised due to their competition with the food supply, i.e. farmers using land to grow crops for biofuels not food. It was interesting to learn researchers from Brazil, which currently only uses <2% of its land for growing crops, did not view biofuels as food competitive whereas China was more conservative in how much land they could devote to biofuels to balance between feeding and fuelling their country.
A recurring theme amongst the discussions were the challenges involved in the implementation of new and more environmentally friendly products or systems into society. We may "have the technology" but how can it be successfully adopted by society? Does it first require people to change their behaviours? If so, this is often much easier said than done, with cultural differences and "irrational behaviour" sometimes being the biggest barrier to change. On this theme I took a moment to digress and presented the conference with an example of our own irrational behaviour from my own neck of the woods in the UK. There was much amusement from the audience to see contestants hurling themselves headlong down a precipitous slope in the hope of winning very little other than a few broken bones. (I recommend watching a clip of the Gloucestershire Cheese Rolling event on YouTube to see what I mean). And so, maybe suitably inspired, 2017 will see the first winning cheese roller from Brazil, China or South Africa. The notion of such eccentric behaviour and headlong disregard for what is sensible may not be a literal response to innovation but at times it must seem to those who wish to introduce change what they are up against.
The next leg of my journey saw me hop on a plane to the neighbouring state of Rio de Janeiro. Now I know Brazil is big but Rio felt like a completely different country to São Paulo. It has a dramatic landscape of long white sandy beaches juxtaposed by giant granite peaks.
Alas the purpose of my visit was not to soak up the warm rays of sunshine at the Copa (CO!) Copacabana or meet The girl from Ipanema (I had forgotten to pack my silver sparkling carnival jacket anyway). Instead, I was there to work with Professor Aurora Pérez Gramatges at Pontifical Catholic University of Rio. As part of the collaboration we investigated how biodegradable and renewable materials could be included in everyday formulated products, such as sun cream and insect repellent, to improve their properties.
It was a great experience working with Aurora's research group. They were very welcoming and eager to show me the culture of Rio and what it means to be a Carioca. This included trying my hand at Capoeira and even a little bit of merengue (more of an Eton mess when I tried it).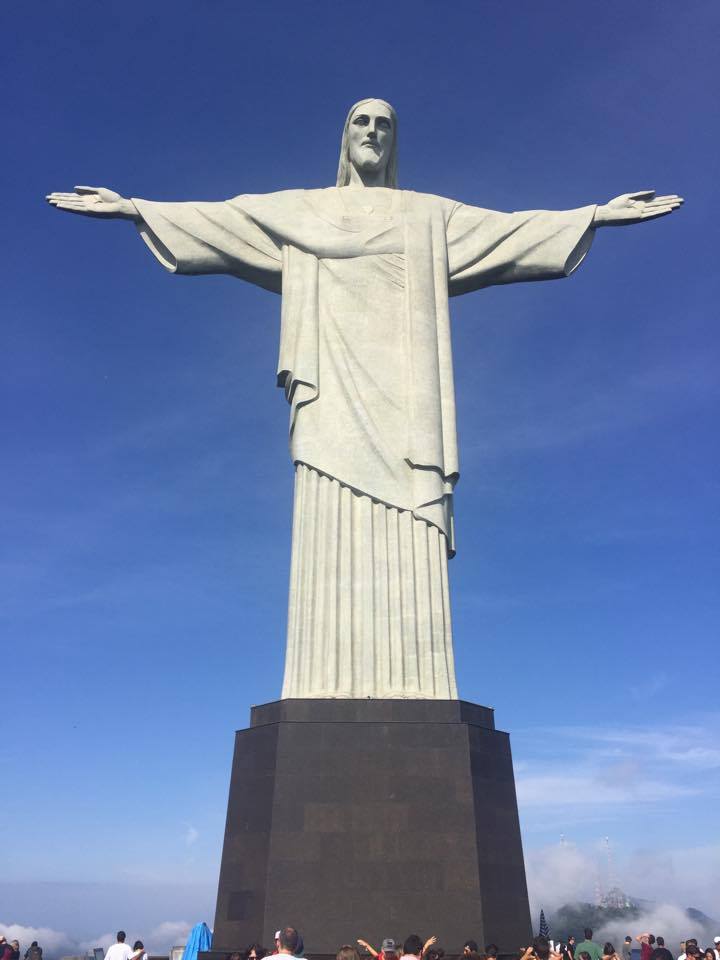 Having been glued to the TV watching the Olympics over the summer I was keen to fit in some sight-seeing of the various venues in Rio at the weekends during my short stay. The most impressive of these has to be the ascent of the Corcovado hill where atop its peak stands the world famous statue of Jesus known as "Christ the Redeemer", watching over the city. This 38m high stone statue is very imposing –  a remarkable miracle of engineering managed over 80 years ago!  Once at the feet of the statue of Jesus you get a fantastic view of the Lagoa and beaches of Copacabana and Ipanema.
Another great way to take in the view is a helicopter ride over the city. Alas with the current state of the pound my budget did not quite stretch that far, so instead I took two cable cars to the top of Rio's famous Sugarloaf Mountain. Whoever thought it was sensible to put a viewing platform on top of a mountain surrounded by shear drops to the sea below must have overdone it on the Caipirinhas.  However, I have to admit the views from the top were breath-taking and I managed to keep my vertigo under check for long enough to smile for a photo.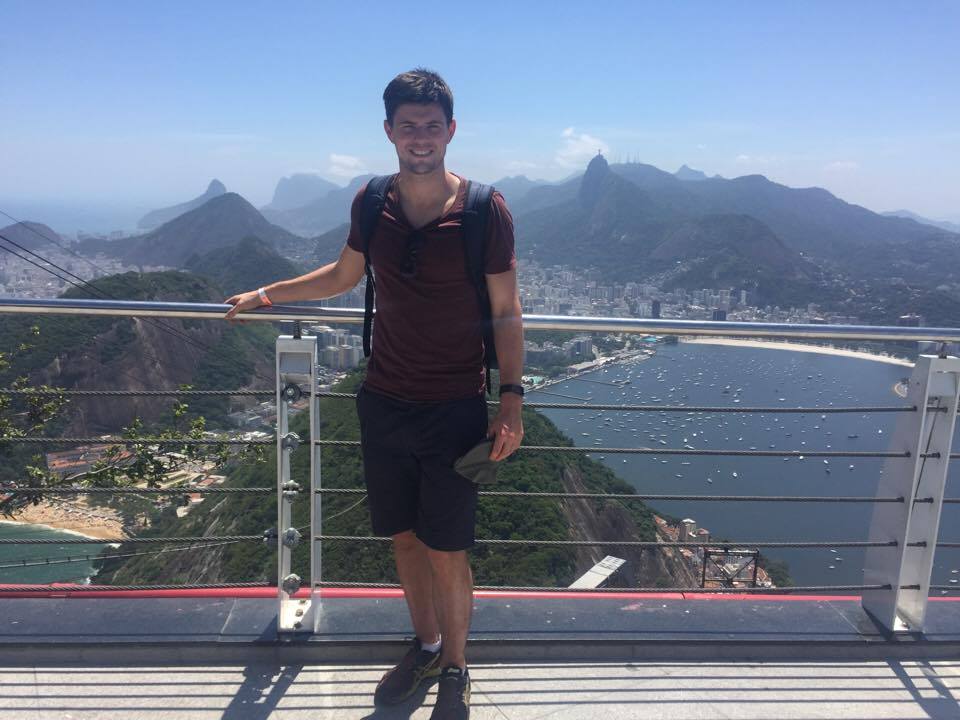 I thoroughly enjoyed my stay in Brazil.  I found it a real privilege to have the opportunity spend time in Rio meeting new people and learning about their culture - it really expands your own world view.
As I finish writing this blog in my hotel room, reflecting on my visit and enjoying the last of the sunny weather, I take a quick look to compare the weather back home – what, -5 degrees Celsius?! Perhaps I should have packed that jacket after all!