At the end of January, I headed to Manchester for the Anaerobic Digestion (AD) Network Research Colloquium, 'Beyond Biogas'. Thanks to some good timing, plenty of opportunities for networking, and being a member of a network I had an amazing experience of listening to interesting talks, talking to other researchers, and receiving plenty of advice.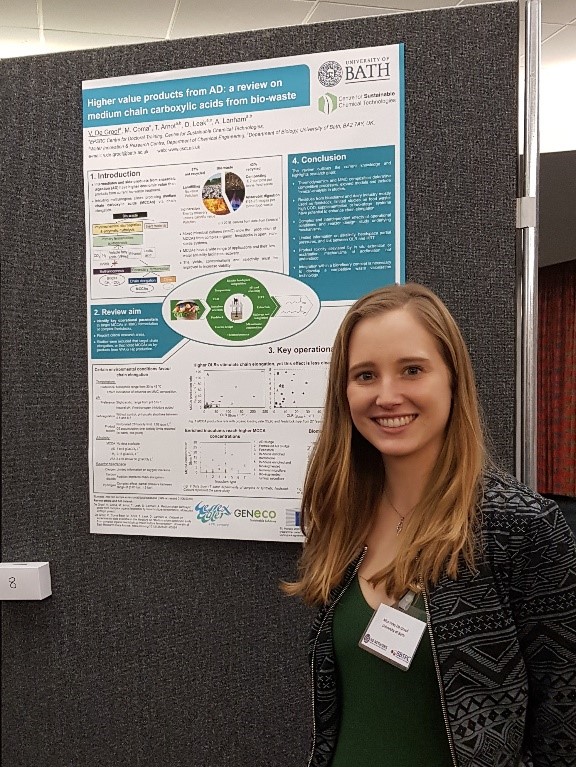 The timing of these events couldn't have worked better since I had just published my first, first-author paper: a review on "Medium Chain Carboxylic Acids from Complex Organic Feedstocks by Mixed Culture Fermentation".
This paper, as well as my poster, helped me network with established academics and first-year PhD students alike. Networking allowed me to catch up with researchers I had met at previous events, as well as meet many new, fascinating people who gave me great advice for my research, and even tips for career development. I connected with all of them on LinkedIn and/or Twitter because I look forward to hearing about their progress!
I have been asked by some of my fellow PhD students in Bath how I secured the funding to attend this conference as well as some other small conferences previously. The AD Network funded all the expenses for travel and accommodation for the early career researchers attending the 'Beyond Biogas' Colloquium, including myself. I would definitely recommend finding and becoming a member of such research networks as they allow you to attend conferences like these, for free!