Maria Weber is a final year PhD student at the Centre for Sustainable Chemical Technologies. She works with Professor Tony James and the East China University of Science and Technology to develop fluorescent molecules that can be used in diagnosing diseases.
After spending two months on an industrial placement with the Reckitt Benckiser's sustainability team, Maria decided to go further afield to explore the world of academia in Asia.   
In 2019 I was fortunate enough to get the opportunity to go to Osaka University, Japan, to spend four weeks with the Kazuya Kikuchi group on a research placement where I would be doing cell experiments with my fluorescent molecular sensors.
Why Japan? Research on molecular sensors is a hot topic in Asia, especially in China, Korea and Japan.  In the Tony James group, my research home in Bath, we work to develop bio-sensors that can detect particular molecules involved in inflammation. Usually, we create these sensors in Bath, then send them off to our collaborators in Asia for testing. Having a chance of being involved in the testing process, and see how my own sensors worked in cells was a fantastic opportunity, made even better due to the extensive facilities available in the Kikuchi group. Besides enhancing my cell culturing skills, my experience in Japan allowed me to familiarise myself with confocal microscopy – an imaging technique that lets you see what is happening inside the cells in 3D.
Osaka University, one of the top 3 universities in Japan, has a strong research focus in all aspects of sciences. This focus is obvious when you see its cutting-edge facilities, and when you find out that most research groups have equipment that is exclusively used by themselves!
Daily life in the Japanese lab is also slightly different compared to the UK – PhD and Master students tend to work very long hours, as well as most weekends. However, this does not imply that research groups aren't sociable – in fact it is quite the contrary. For example, my group would all go out for lunch every day, and throughout my stay I was shown around Osaka by various members of the group.
During my four weeks in Japan, I learnt new skills and got some positive results on one the three sensors I tested. Despite the language barrier during the daily work, everyone was extremely patient and willing to help me out. At the end of the day, it's all about your attitude towards learning, and about having a positive and open-minded approach to the research and working culture in a different country.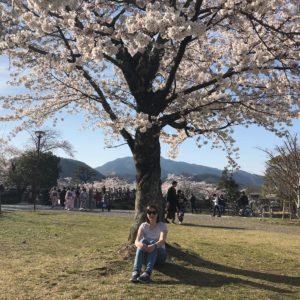 After finishing my placement and travelling a bit in Japan, I spent a few days in Seoul to meet up with our collaborator Juyoung Yoon at Ewha Womans University, as we regularly send our molecular sensors to Yoon's group for biological evaluation. My visit allowed us to discuss some of our ongoing projects face to face.
Doing two internships as part of your PhD - a research and a non-research one – is something I can't recommend enough, as it's the best to get perspective on your future career. As much as I enjoy research and learning new techniques, a career in academia is not for me. However, the international experience I am taking away from my placement in Japan will no doubt be helpful in many ways, in my future career and beyond. Additionally, collaborating with researchers from different countries has been an essential part of my PhD and has been invaluable to expand my professional network.
I would like to thank Prof Kazuya Kikuchi for giving me the opportunity to join his lab, Assisstant Prof. Masafumi Minoshima for many useful scientific discussions exchanged, Namiko Yamada for all the help offered to get me started in the lab, the Kikuchi group for making me feel so welcome, Juyoung Yoon and group members, and finally the CSCT for providing funding to facilitate this opportunity.
Maria Weber, Centre for Sustainable Chemical Technologies, University of Bath, UK.