Vicky de Groof is a final year PhD student at the CSCT and a FIRE Fellow who specialises in water and bio-waste research. In November 2019, she attended the 8th International Specialist Microbial Engineering and Water Engineering (MEWE) conference, an event organised by the International Water Association (IWA) MEWE specialist group.
To find out all about the latest research on microbial communities in water engineering and natural water, I attended last year's MEWE conference, which – lucky me! – took place in Hiroshima, Japan.
At the time, I was on placement at the Singapore Centre for Environmental Life Sciences Engineering (SCELSE), so I took a one-week break from my placement work to go to MEWE – exactly what I needed to fuel up my batteries by listening to the most fascinating new research, meeting lots of wonderful scientists, and squeezing in a few days of sightseeing and adventure. And I also managed to avoid jet lag!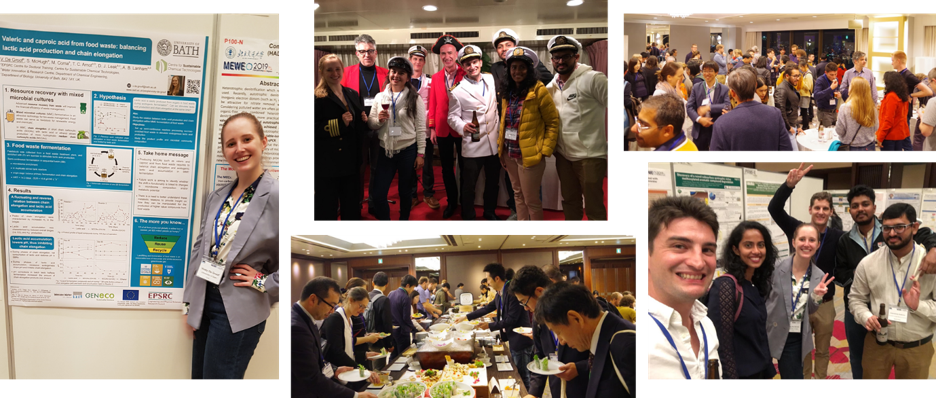 MEWE's is a specialist conference organised every three years and it brings together researchers from all corners of the world to discuss microorganisms in drinking water and wastewater treatment systems. Microorganisms are key in our water systems, where we want to either avoid them, or use them. They do not live alone as single species; microbes form complex, highly diverse and dynamic communities. Studying the extensive world of microscopically small organisms is an immense challenge. Take my own research, for example – we don't even know which microorganisms are key for the production of the food waste derived compounds I'm studying (something I aim to find out before the end of my thesis!).
Despite the challenges, the methods and technologies to study these communities of microorganisms are rapidly advancing. A better understanding of the link between microbial diversity and function allows improving existing and developing new technologies that benefit the water sector and the environment.
I attended the pre-conference workshop to learn all about the latest advances in multi-omics methods. This term refers to the combined use of different "omics" techniques that allow studying different biomolecules from an entire community of microbes all at once, thereby revealing its inner workings. For example, metagenomics allows us to determine which microorganism species are present in the community based on the entirety of DNA present, metaproteomics reveals what the microorganisms are doing based on all the proteins extracted, and so on.
The workshop discussed some of the main obstacles hindering the routine application of these, such as the complexity of sample handling, the limitations of extraction techniques, and the knowledge required to deal with highly complex data and develop bioinformatics workflows. Although the content of this workshop was more technical than what I currently need in my engineering research, the knowledge I gained will serve me well – it has improved my understanding of the tools currently available and their expected development over the next couple of years.
The three-day conference included a wide range of fascinating presentations. Some of the work presented discussed the formation of biofilms or re-growth of pathogenic bacteria in drinking water supply systems, water storage tanks and shower hoses. One particularly interesting keynote lecture by Dr Nancy Love (University of Michigan, USA) showed how microbiology is related to the current plastic-crisis our environment faces. Their research showed how even though the city of Adis Ababa has drinking water treatment, the inadequate plumbing and pumping system in certain areas requires water to be stored over three days, sufficient time for the pathogen Cryptosporidium to regrow. Therefore, people are dependent on bottled water for drinking water. Other talks aimed at elucidating the mechanisms of microbial ecology underlying current wastewater treatment technologies such as anaerobic digestion or biological phosphorus and nitrogen removal processes. One of the sessions focussed on the fate of antibiotic resistance genes in wastewater treatment plants. It was clear from the presentations that memes and cartoons are a great way to share ecological theories or remind everyone of key steps in the processing of bioinformatics.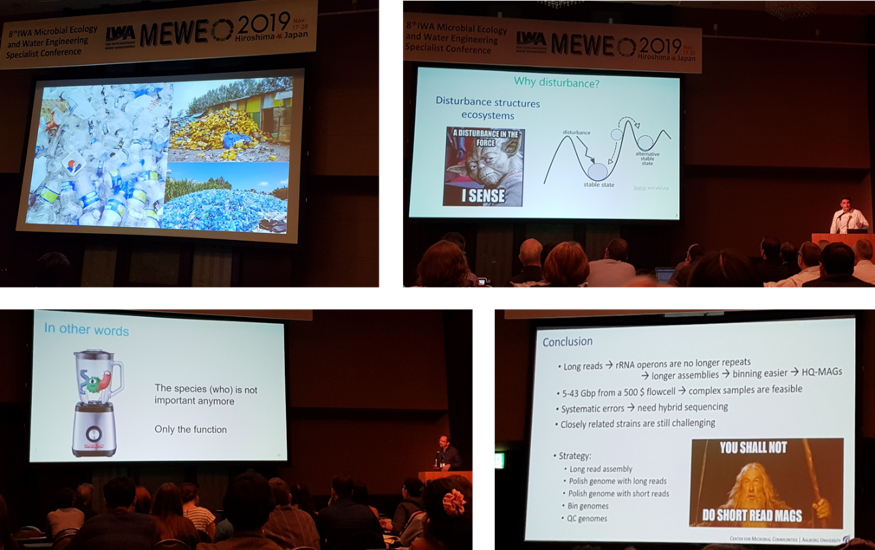 In addition to the oral presentations, 149 keen poster presenters displayed their research. I represented the Lanham group proudly and managed to share the work we do on how we can lead microorganisms to produce bio-chemicals from food waste that could improve resource recovery and the economic efficiency of recycling.
As a break from the science-heavy days, the conference organisers had put together a reception and dinner on a boat. The boat took us around Hiroshima bay, showing the beautiful landscape. The wind and autumn made this trip quite chilly, especially with my Singaporean wardrobe! After a lovely dinner, a group of around 40 researchers (including myself) decided the night could not be over without some traditional Japanese sake and karaoke.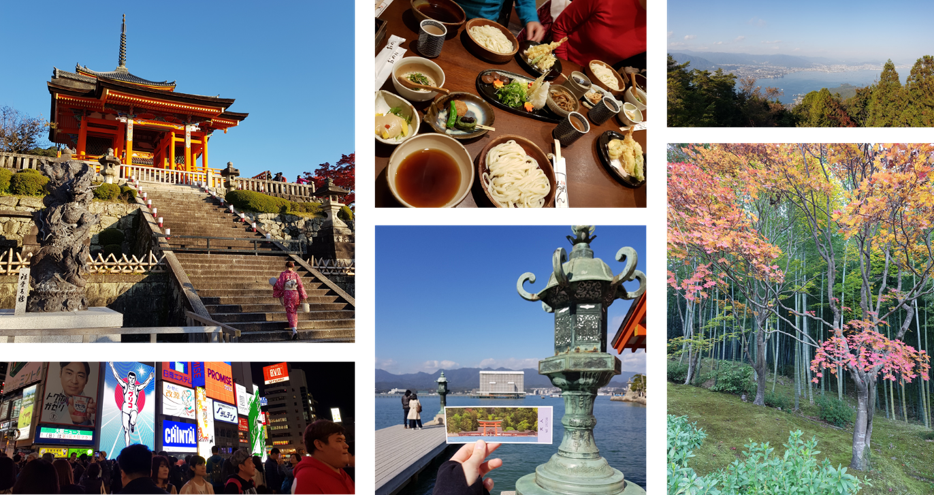 I managed to squeeze in a bit of sightseeing the weekend before the conference and a couple of days after it. Unfortunately, the floating torii gate that is part of the UNESCO world heritage site of the Itsukushima Shrine in Miyajima was under renovation. It was still a beautiful place to visit with plenty of shrines, stunning views and beautiful autumn landscape. A speed visit to Miyajima, Kyoto and Osaka made me fall in love with Japan, and I will definitely be back for a more extensive visit in the future!