Meet Nuno Reis, Reader at the Department of Chemical Engineering, entrepreneur and yoga practitioner. Much like anyone's, Nuno's career has seen its highs and lows. However, his approach to life and career challenges remains the cornerstone of his success: a resilience developed through a conscious effort to be mindful of the present.
In this interview, Nuno tells us about innovation in healthcare diagnostics, neurodiversity in academia, mindfulness and raw oysters.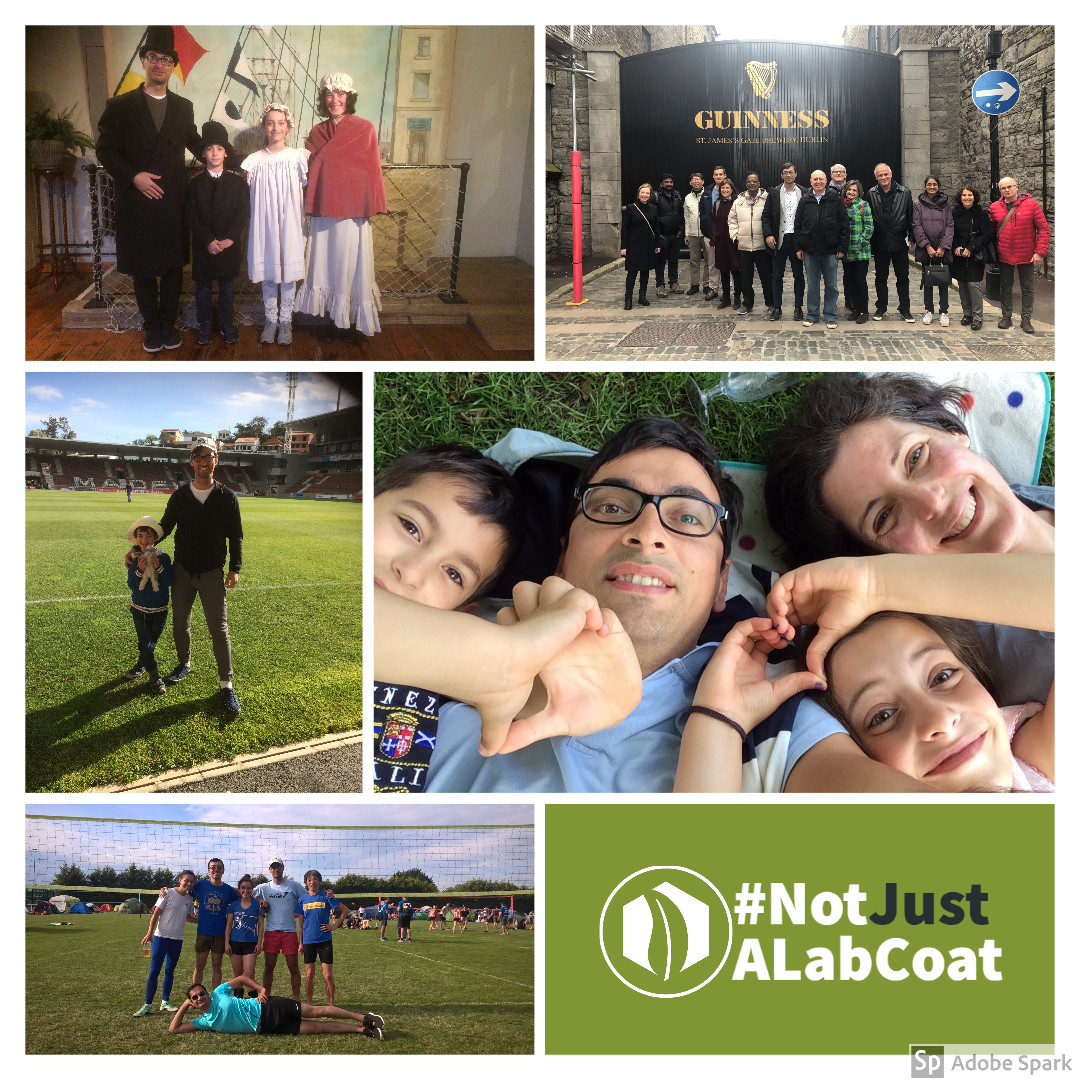 Can you tell us more about your involvement with the CSCT?
I am one of the theme leaders for Processes and Manufacturing within CSCT. The other theme leader is Professor Michael Lewis, another enthusiastic academic from the School of Management.
Traditionally, the role of theme leader is mainly assisting the Centre for Doctoral Training (CDT) management team and steering core research and scientific activities within the theme. Yet, both Mike and myself are truly enthusiastic about fostering innovation, research exploitation and entrepreneurship with PhD students, probably due to our track record on these areas. In fact, we are currently working in setting up the very first 'sprint innovation' event within the CSCT, which will take place in collaboration with one of the CSCT's major international industrial partners.
Can you tell us more about your work?
I am enthusiastic about problem solving, combining an understanding of fundamental science with technological innovation. I particularly enjoy working at the interface of different disciplines, and most of my research activities are based on addressing real needs in human healthcare diagnostics and bioprocess industries. When I started my PhD (years ago!) I began to realise there were many opportunities in making certain chemical and biological processes faster, easier and cheaper – in other words, more sustainable, although at the time the term was not so widely used.
These days, my research is mainly focussed in transformative reactor and microreactor designs and new technologies for point-of-care healthcare diagnostics.
A lot of my current work involves using MicroCapillary Film, a novel micro-engineered material, to develop new point-of-care solutions for unmet medical needs.
I first had access to MicroCapillary Film during my earlier years at Cambridge, where I worked as a post-doctoral researcher and research fellow. In cooperation with a colleague (who is now a good friend), I developed a cheap, miniaturised concept that allowed carrying out multiple bioassays using a small volume of human samples (such as blood or urine) with a small disposable strip. This means that high-performance diagnostic testing can be done closer to the patients, reducing overall healthcare costs and speeding up diagnosis. This benefits clinicians but also patients who require rapid decisions in acute/emergent situations such as chest pain or bacterial infections.
A particularly distinctive aspect of MicroCapillary Film is its optical transparency, which enables optical imaging with a cheap camera, so I also look at aspects of digital healthcare, i.e. how to create an interface with a smartphone camera to be able to 'read' the results of the test. As a consequence, we've had various national and international media coverage about our research on smartphone diagnostics. I have now been through many iterations of protecting new Intellectual Property and have kept setting up new ventures.
Beyond my responsibilities at Bath, I am Co-Editor for the Chemical Engineering Journal, a prestigious journal published by Elsevier. I get to work alongside an amazing team of scientists and journal managers, while being exposed to the very latest trends in the field.
What do you think is the most pressing sustainability issue?
I see a shift towards greener and more sustainable energy sources, which is amazing because, usually, once a technology is established people don't like it changing. So, we are quickly adopting new technologies, e.g. electric vehicles.
However, in my view, it doesn't really address the core issue leading to global warming and sustainability. To stick to the electric vehicle example: they simply displace pollution and CO2 emissions elsewhere, and may even encourage people to drive more, increasing the overall CO2 footprint.
Instead of that, I would love to see a shift towards making each and every human more aware of the real pressure our lifestyles put on the planet – a sort of 'footprint index' that would inform us about our personal impact. The UN secretary-general suggested taxing people on CO2 instead of income, which could be the way forward.
Another area that needs re-thinking is disposables. Here, single-use plastics are just the tip of the iceberg. An 'economy of scale', where things are produced cheaply in remote parts of the planet then shipped to a warehouse, can have serious consequences in terms of sustainability. It's currently cheaper to buy a new washing machine than to repair it, so throwing things away has become a habit that cannot be disregarded.
What made you follow the academic career path?
I must confess that working in academia had never been on my radar during my undergraduate years at the university.
I grew up in the north of Portugal and I went to my local, yet prestigious, university (University of Minho). In Portugal, people traditionally embarked on a PhD with the sole purpose of staying in academia. Only the very best brains could secure a job in academia – the salary of a full professor used to be linked to the salary of our President of Portugal – so being a full professor there used to bring public recognition and life status, which were not my priority in life.
During the last year of my degree, I went on to do an industrial placement that I really enjoyed. Yet, I also knew that at some point I would love to do a PhD, as it sounded like an opportunity for me to do something very creative. And, one day, I thought: "If I am ever going to do a PhD, it has to be done now".
Some of my PhD work took place at Cambridge, where I felt I was in my element. I was able to fully use my creativity and work in a very collaborative environment with like-minded people. Then I managed to secure a very competitive Marie Curie Intra-European Fellowship, which funded some of my post-doctoral time at Cambridge.
When children came along, my wife and I realised the need to dedicate time to the family. If we were going to pay someone to have the pleasure to see my children grow, it had to be one of us. So, I started looking for more academic positions and in 2010 I got my first 'real' job in Loughborough, in the Department of Chemical Engineering. The department was undergoing a fresh revamp, with one of the core research activities being Biological Engineering.
What have you found challenging in your career?
Unclear expectations from employers and the finding a balance between responsibility, academic freedom and independence – interestingly, all things "outside my control". In my view, there are systemic difficulties in accepting individual differences and working styles among academics and other members of staff. We tend to fit people in boxes, and I have seen a lot of unfair labelling of academics from other academics and staff. This completely misses out the opportunities that result from accepting diversity, not just in terms of our looks but in the full personality spectrum – something I believe the University calls neuro-diversity. Understanding and regarding others as human, with a body, a brain and emotions, goes a long way.
How did you face some of these challenges?
Initially, with fear – when you are hardworking and used to excelling, our work environment can have a massively damaging effect. I managed to release myself from the 'trap' of overthinking by practising mindfulness and yoga regularly, which enabled a truly transformative journey into acceptance and self-compassion.
I learnt to jump out of autopilot and survival mode to be fully aware of the present moment; being aware of the feelings, physical sensations and thoughts without engaging with them; realising that our life happens now and that we can be happy in the moment. The same way having children enabled me to experience unconditional love, mindfulness enabled me to experience unconditional happiness – the kind probably spoken by, for example, many Buddhist monks and philosophers over thousands of years.
I first started practising Mindfulness with an app, then I heard about the free mindfulness courses offered by BANES Wellbeing College and attended the sessions run by Huw Griffiths. His approach to Mindfulness is very close to Thich Nahn Hanh's, the peace activist and Vietnamese monk, and evidenced by the findings of Professor Jon Kabat-Zinn, the founder of mindfulness-based stress reduction.
A good way to start for a scientist, I would say, is to read the 'Miracle of Mindfulness' by Thich Nahn Hanh. There is no right or wrong way to do Mindfulness; the biggest challenge is to allow ourselves to take time and being in the moment, non-judgementally – which I do understand is extremely challenging, especially for a creative mind. These days, I use every opportunity to bring myself to the present and practice where I can.
Avoiding distractions (news, social media, etc) and being present in the moment can make the most inane activity a joy. Paying attention to the breath and giving our clever front cortex some focus (such as counting up to 9, then down to 1), without judgment nor purpose, can make a world of a difference. I brought this practice into my work routine by planning my diary in advance and focussing 100% on the tasks I carry out.
What have you found most rewarding about the academic world? 
The diversity, both physical and psychological, of colleagues and students we get to interact with. The ability to bring together such distinct people into the same room, with a common objective. And finally, the opportunity to be surrounded by people who share their love for learning and do amazing science and technology.
All of it helps us develop as individuals, but also as academics and scientists.
One thing about the world of academia that took you by surprise?
It can really be the best job in the world provided you have someone in the backstage who fully believes in you.
Most people think of academia as being extremely competitive, but I suspect this hugely depends on the institution. Yet, I learnt that making a good collaboration work comes down to chemistry. In the same way businesspeople know most deals are made at the dining table, fruitful interaction among researchers is only effective when people remove their working hats and drop their egos. This is why, in my view, social spaces are so important – it's where we see the real 'chemistry' with our colleagues and researchers.
Another aspect that, looking back in time, hit me by surprise is the number of transferrable skills I have ended up developing by working in academia. For example, I have made great use of them in the last few months, when my big hobby became renovating a terraced Edwardian house that myself and my wife bought in Bath. I have built stud walls, plasterboarded walls and ceilings, painted, repaired and sanded floorboards, fitted the kitchen, managed finances, organised work schedules, negotiated tenders, managed the people we recruited… All of it done with a very limited budget. This unique combination of intellectual and physical tasks made it one of the most challenging, yet happiest, periods of my life.
What tip would you give your PhD self if you could go back in time?
To listen.  Do not engage with your impulsive, "chimp" mind. Plan your time wisely and realistically, stick to the plan, and keep reviewing it.
Your latest idea is probably great but not necessarily the best.
 What are the best memories of your PhD?
Certainly my PhD supervisor, who became a true friend in spite of the distance. He was my best man during my wedding and up to this date he still rings me every year on my birthday and wedding anniversary.
Also my time at Cambridge, where I did some of the work as a research visitor – such an amazing city. I have my office 'decorated' with some front journal covers that remind me of this period in my life. I'm also pleased to have left a legacy in my PhD that helped many people carry out further work. Although my own contribution was often not acknowledged, I did it for my own sake; helping people is one of the most effective ways to boost our mood.
 Who are your mentors, or who are you inspired by?
I don't like the idea of leaving people out but there are three amazing persons that really stand out.
Professor Malcolm Mackley at Cambridge, now retired, but one of the most amazing scientists I have ever met and who is married to Margaret, an amazing woman too.
Patrick Hester, an 83-year-young engineer who is still running his own business and who is also a friend and investor in our joint venture, Capillary Film Technology. Every time we meet, we come up with a new device/widget to develop together.
Professor Gianluca Li Puma, my probation adviser at Loughborough, an amazing person and an outstanding scientist.
If you won a million pounds (tax-free!), what would you do with them?
Travelling the world (in a sustainable way!) and buying myself time to socialise more would definitely be the areas where I would invest – half a million at least.
I would invest the rest in my own start-up company, exploiting some of my research on rapid diagnostics, as I believe it can be transformative for millions of people across the globe. I would then take any profits to invest in areas where people still struggle for survival – they are the people money can actually make happier.
Or simply develop a point-of-care, high-performance Coronavirus test that would facilitate and speed up serological testing, so we could have a rapid diagnostic test for pace pandemics like this one.
What makes you smile?
A beach. The sound of water brings me peace and its endless space for fun evokes freedom. I love creating all sort of things in the sand.
The look of a young child does not fail to bring a smile to my face either. All they need is attention – give it to them and you're guaranteed to make them (and yourself) happy.
If you hadn't been a biochemical engineer, what would you be?
When I was young, I wanted to be a medical doctor (a common wish for many academics, I would imagine). This is because I could see a direct link between science, love for learning and helping people.
What do you do when you're not in the office?
I have a wife and two children who keep me busy when I'm not in the office!
I am really into sports, especially volleyball. In April 2018, a colleague and I set up a new Ominibus staff volleyball club at the University, which now has 30+ members. In general, I fancy any team sport including football, which I regularly play with other dads from the school where my children go.
I enjoy travelling, drawing and playing the piano (or, these days, listening to my kids learning and playing it).
Fun facts about you?
Whenever I visit a new place, I love trying to get lost while walking around – which is difficult, because I have a very good sense of direction so losing my bearings takes effort.
Also, I only go to restaurants where I see local people – that's the best way to discover the local culture and food. I believe in the old saying "When in Rome, do as the Romans do" and I love new experiences. However, whilst visiting some relatives in Paris many years ago, we were offered raw oysters to eat as the French eat them, which is without chewing. I couldn't really bear the idea of eating fish without chewing it first so, since then, whenever something is not up to my taste I call it an 'oyster'.