Last October, Jaidene Parks started a PhD at the CSCT – a PhD slightly different to the conventional offers out there. She is enrolled in two different universities – the University of Bath and Monash University – doing a 'Global PhD'. The programme, which launched this academic year, is the result of a long-standing connection between the two Universities, and Jaidene is one out of four students selected to be a part of it.
Unlike other PhD students, who may spend one to three months away on placement, I will be spending at least 12 months doing my research away, at Monash University instead of Bath. Thanks to the 'Global PhD' programme, not only do I get to spend a year away from the grey, but when I finish my PhD I will graduate from two different universities – twice as much to celebrate!
My research project will be looking at developing a common plastic material known as polylactic acid (PLA), with the intention to use it in medical devices. PLA is a more sustainable alternative to the current plastics used in medicine. However, it doesn't have antimicrobial properties, which are essential here, so that's what I am trying to do during my PhD. Professor Matthew Davidson, my supervisor at Bath, is an expert in the field of plastics. Professors Philip Andrews and Laurence Meagher, my Monash supervisors, specialise in medicinal chemistry.
Therefore, the plan is to develop the plastic materials and a technique to create them during the first year in Bath, and then head out to Monash in my second year, where I will use their expertise and equipment to test and improve the antimicrobial properties of my materials.
My first time at Monash, my host University
To celebrate the launch of the Global PhD programme, a few people from the CSCT headed over to Melbourne for a week at the end of October. The group included the academics who will supervise the two Monash students, the two Bath students enrolled in the programme (myself and Dominic Kennedy), and the CSCT's Centre Manager.
Our week kicked off with a launch event in the city, attended by ourselves, Monash representatives and Mr Chris Holtby, British Consul General. It was exceptionally interesting to have a chance to discuss with Mr Holtby how the Australian and British governments are working together to reach sustainable development goals such as the net zero emissions, and the ways in which they are spreading this message to the public.
Having this opportunity to meet people in a more relaxed environment set the week up for more in-depth discussions, as introductions had already taken place and conversations from then on were more comfortable and flowed better.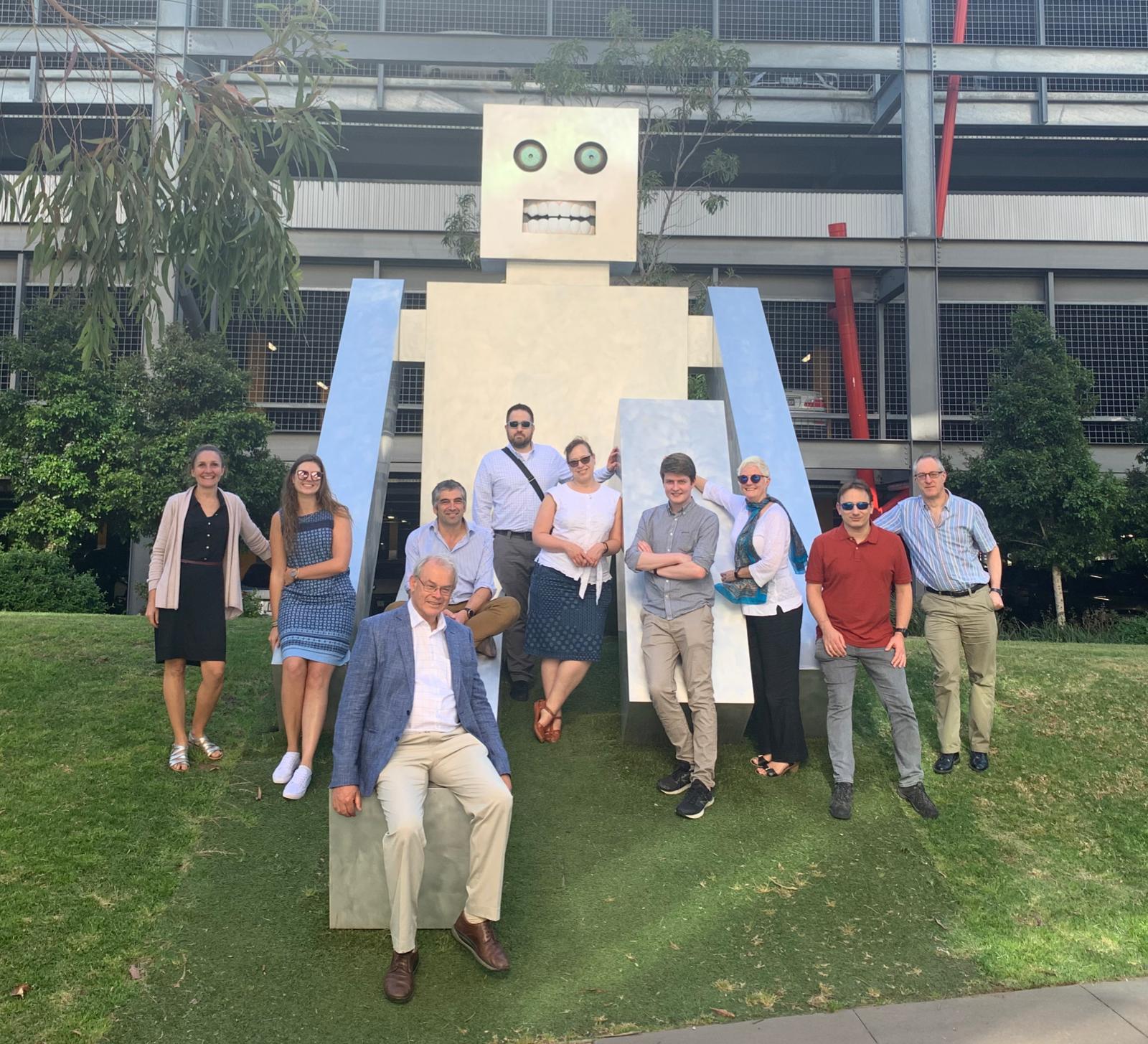 We also attended a two-day symposium held at Monash University's Clayton Campus. The talks, led by supervisors, PhD students and post-doctoral researchers, covered various topics in the field of sustainability, for example development of lithium-ion batteries, antibiotic resistance, catalyst development, or utilisation of biomass waste.
Talks were broken up by the amazing coffee Melbourne has to offer – if you're a coffee lover like me, Melbourne should be on your radar of places to visit. The breaks were useful to have discussions and hear different perspectives of presenters and other attendees alike.
When we weren't attending meetings or talks, I had the chance to look around the lab facilities. Seeing as my programme is multi-disciplinary – combining chemistry, engineering and microbiology –  I was particularly interested in seeing the biology labs, which I found were not as scary as I expected, nor all that different to the chemistry labs that I'm used to!
Why this trip was key for me
In my PhD, I will be spending the first 12-15 months at Bath. I will then fly to the opposite side of the world to Monash University, where I will be fully immersed in the PhD scheme there, with a supervisory team (my secondary supervisors) and access to all the relevant equipment and resources. So, this trip was particularly important for me – the opportunity to have face-to-face meetings with the people I will be working with will hopefully ease any further communication until I head out there.
Hearing more about how the different aspects of my project are going to come together, and how I will be able to develop existing and new skills, has made it clear how challenging (although hopefully rewarding) these next few years are going to be for me.
It was also valuable to get their views on my project and explain the work I'm doing, without having to worry about the message being lost in the tone of an email or a bad connection during a video conference!
What I found most enjoyable about this trip was getting to spend time with senior academics in a professional environment where, for the first time since finishing my undergraduate degree, I felt I was seen as an equal. My opinions were valued, which allowed me to get much more out of the conversations I had – making it clear to me that signing up to this PhD programme was the next step I wanted for my career.
Finally, you might be happy to know that it wasn't all work – we did have some time away from the academic conversation and the Monash campus. We had the chance to be tourists, too, wandering the streets, walking on the beach, and visiting the seaside suburb of St. Kilda to watch fairy penguins swim into shore at sunset.
The CSCT is currently recruiting students for the Bath-Monash Global PhD Programme in Sustainable & Circular Technologies. Find out more and apply by 23 February 2020.