Drawn by the prospect of cleaning ocean water of harmful chemicals potentially using robots, Philippa Kearney was promptly convinced to join Dr Petra Cameron's group at the University of Bath.
In this interview, Philippa tells us how, besides her involvement in saving the oceans, she is also interested in supporting many other life forms around her — including fellow students, withering succulents, and Gordon, her pet fish.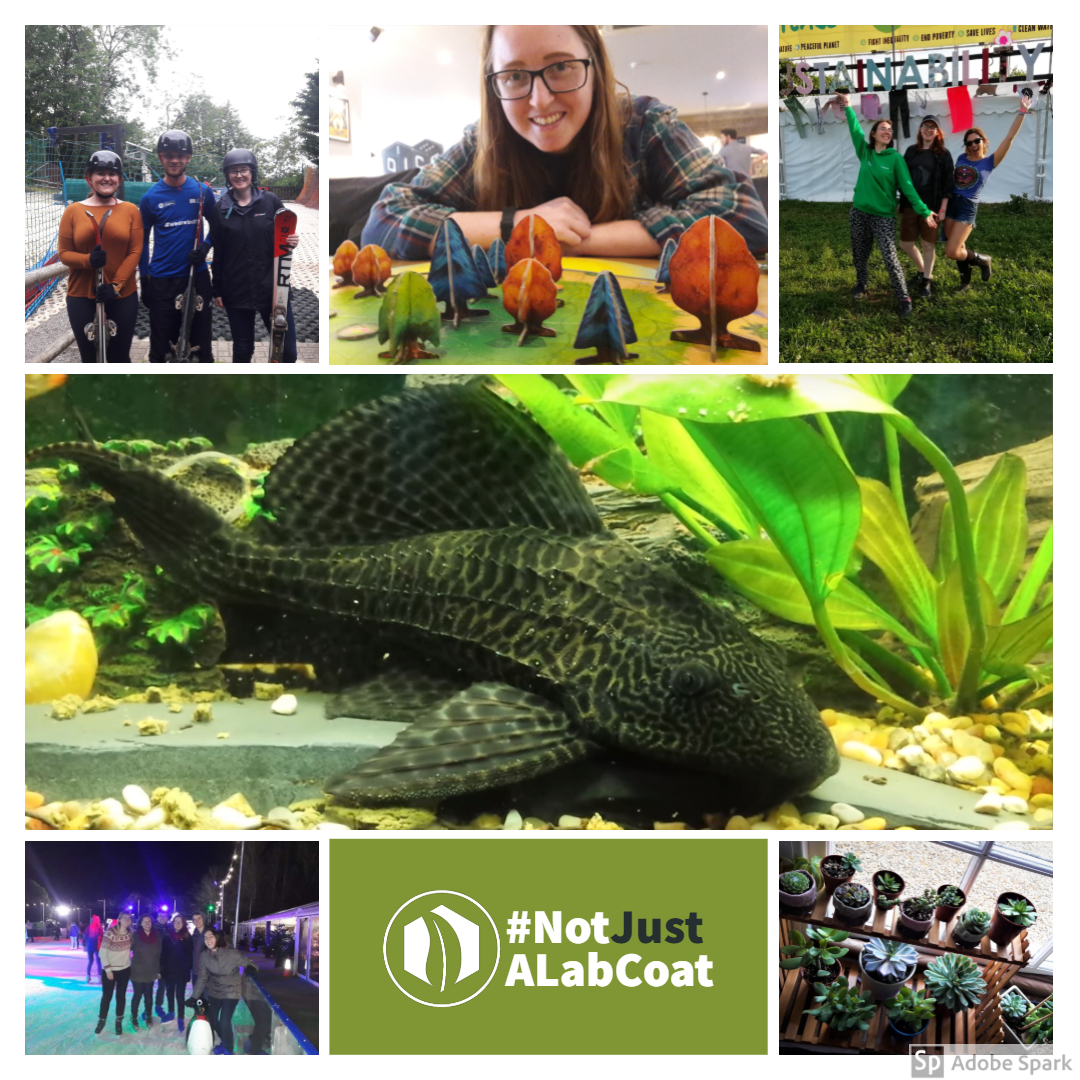 What attracted you to the CSCT?
Before coming here, I knew I was keen to get involved in something with a strong environmental drive behind it, but I didn't know exactly what this would be. I was considering academia, industry and environmental policy as potential options.
Ultimately, I chose the CSCT because it gave me the ability to work on application-driven research alongside industry, gain experience in chemical engineering, and get involved in the range of activities and skill-development opportunities available.
What was the reason you chose to focus on water?
I decided to pick a project looking at sustainability in the oceans because it was a really great opportunity to develop new technology, and to research in an area that is crucial to global sustainability but is often forgotten due to its perceived disconnection from human life.
I was originally planning on finding a project with a focus on energy, having previously worked with materials for super-capacitors, batteries and solar cells. But the water project I'm currently working on really caught my interest. I still get my energy fix from working in a perovskite research group, although I would now say I'm definitely a convert to #TeamWater in the energy vs. water debate.
Can you tell us more about your PhD project?
The idea behind my PhD is to create a device which removes Bisphenol A, more commonly known as BPA, from the oceans.
BPA is an essential building block for the production of polycarbonate plastics, but it is also present as an additive in many other plastics, epoxy resins, fire-resistant coatings, paints, sealants and inks. BPA is so widely used that it is now found across all aquatic environments, being a particular problem in areas with a lot of plastic pollution.
Eventually, I imagine our work leading to a solar-powered machine that could be left for extended periods of time to autonomously collect BPA and similar pollutants in a highly polluted area, for example in the Great Pacific Garbage Patch.
The main issue I'm trying to address with my project is the impact of BPA on aquatic life. BPA is an endocrine disruptor (which means it interferes with the hormone system), it's toxic to aquatic life and it can cause infertility even at low concentrations.
Substances that interfere with hormone systems are particularly dangerous in the environment because they have the potential to greatly reduce populations of species that are more sensitive to the pollutant. This has knock-on effects along the food chain, which can destabilise entire eco-systems.
As an emerging contaminant, another problem is that we don't yet understand the potential effects BPA can have – particularly in cases of low but chronic exposure, for example.
My work is mostly developing and optimising electrochemical removal processes. This process uses electrochemistry to turn pollutants that are dissolved in water into solid polymers. Once the pollutant is solid, it can be separated from the water much more easily and can be safely removed.
Why did you choose to become part of the CSCT Web Committee?
Being on the Web Committee has shown me the real benefits of getting involved with the wider academic community using social media — as a platform to celebrate our own work and others', as a place to share ideas and resources, and to collectively grumble about PhD struggles. Having said that, it was a bit of a strange choice for me, to be honest, as I'm not someone who has ever used social media very much. I will probably continue to be a social media lurker and not actually post anything!
My favourite thing about the web committee is the process of coming up with new ideas. I enjoy being creative, so discussing new concepts for content and social media campaigns is always fun. It's a great team to work with and I think we're moving in a really positive direction, so I'm expecting us to go viral pretty soon.
You and some other CSCT students attended Glastonbury Festival last year to talk to people about sustainability. Any highlights?
Glastonbury was amazing. The music (of course), seeing David Attenborough, starting the day with 80's dance party aerobics and a giant drop slide… But one of the best things for me was the people.
I've enjoyed all of the public engagement activities I've been involved with at the CSCT. However, the events we attend are often focussed on school children and families, so at Glastonbury, I really appreciated the opportunity to talk in more depth about sustainability with a diverse range of adults.
We had some really interesting conversations with someone who had worked on Blue Planet, Festival founder Michael Eavis, people from environmental charities, CSCT alumni and current students, and a lot of people who had not experienced sustainable research before. I was surprised at some of the responses we got — many people were incredibly grateful to hear that there are efforts being made to find solutions to the problems they were concerned about, and many contributed their own big questions and ideas to our research.
The best tip you have received as a PhD student?
I've heard a lot of good advice since I started my PhD, but these are a couple of my favourites:
'Start with the end in mind' – Stephen R. Covey, from The 7 Habits of Highly Effective People
This advice came up in a workshop delivered by Dr Caron Fraser Wood, from Mindset Method, right at the start of my PhD. I think it's important to remember why we're here and what we want to achieve, to help keep a good research focus.
'Don't take your laptop home' – Dr Hugh Kearns, from Seven Secrets of Successful PhD Students
I like this one because it reminds me to keep a balance and stop my PhD becoming my whole life. I try to leave work at work, so that I have a space to switch off where I'm not feeling guilty about not working. Although I'm not sure I'm doing it right… as I just end up sitting in my office all evening!
What motivated you to work with the Doctoral College?
I feel strongly that an active community is important for PhD students to prevent isolation. This can be a problem for anyone, but in particular for students who aren't as lucky as I have been to have a cohort and supportive research group around them. I also believe that positive outreach and representation can widen participation in academia.
I'm a member of the Doctoral College Welcome Team. Mostly we're the face of free tea and cake, induction week, and Doctoral College activities, but we can also help students access any help and advice they need without having to approach academics or university staff. This is something I think is really important, so if anyone wants to chat, my door is always open (figuratively, at least).
In addition to the knowledge and skills required for a PhD, what other skills do you pick up along the way?
Like most PhD students, I'm aware that I'm picking up new skills all the time. Some because they relate to my work and others just because they're interesting. I also think the last couple of years have been really helpful for me to develop some of my weaker skills.
For example, at the beginning of my time at the CSCT, I found public speaking quite intimidating. But with a lot of practice, this is now something I'm more comfortable with. In fact, after one public talk, two women came to tell me they were sure I'd win a Nobel prize one day (I'm not sure if this means that I spoke well, or that I failed to communicate the reality of my research)! I also think my writing is improving. It's been difficult but beneficial learning to adapt my style for different audiences, to write reports, abstracts, blogs, talks and a piece for The Conversation.
I'm currently trying to teach myself German and some coding. Slightly less usefully, I've learnt to paint my PhD using only a wooden drink stirrer and also to bake my PhD (my attempts at vegan baking need a lot of work). I also recently started to learn to ski — although I actually spent most of the time learning how to get up again after falling (there's probably a deep and meaningful metaphor for research to be made here, but I'm not going to do it).
Where do you see your career going?
I'm not sure yet. But that's OK because I have loads of time… it's not like I've been here two years already *rips the calendar off the wall*. At the moment, I'm just focussing on right now and keeping my options as open as I can.
What will be the best memories of your PhD?
I'm hoping the defining moments of my PhD will be releasing a prototype BPA-destroying robot into the ocean off the coast of Hawaii, and of course the series of research breakthrough moments that are surely just around the corner!
Many of the best moments of my time here so far relate to my friends, in my cohort and beyond. From the farm trip we went on in the first few weeks of our MRes, to the challenges we faced together in public engagement, showcase organisation, and of course Glastonbury. But also the time spent together outside of work: days out ice skating, dry-slope skiing, exploring Bath and Bristol, playing board games, organising film nights, eating excellent food, and even going to a wedding.
It's been great to be able to share all the high moments with them, but also to rely on their support in the low times too.
What other things do you enjoy doing when you're not in the lab?
I've always been a complete geek, so mostly I spend my spare time playing computer games, reading books and trying to convince my friends to play more board games.
I also find that physical activity is a good way for me to manage stress and anxiety… so I end up doing quite a lot of sport. I play squash, basketball, and badminton regularly. I've also been trying to run, as I promised my sister I'd do the Great South Run with her. But I haven't been training as much as I should so we'll see how that goes!
When I'm not feeling as active, I still like being outside and I'm lucky enough to live right next to a woodland park that is always full of wonderful dogs (and people). I also enjoy going home to see my family and spending time on Southsea beach. Being at the beach in a storm is one of my favourite things to do.
Fun facts about you?
I have a pet catfish called Gordon. He's a common pleco and is over 30 cm long. I've had him since I was 10 and I've always thought he looks a lot like a dragon.
I once helped to make life-sized pterosaurs that were suspended over London's Southbank for the 350th anniversary of the Royal Society.
I love succulents. I will buy the dying ones I find to try to rescue them. Recently, I had to buy a plant shelf to stack them because I ran out of room in front of my window.
Read Dr Petra Cameron and Philippa Kearney's piece in The Conversation about plastic pollution in the oceans.