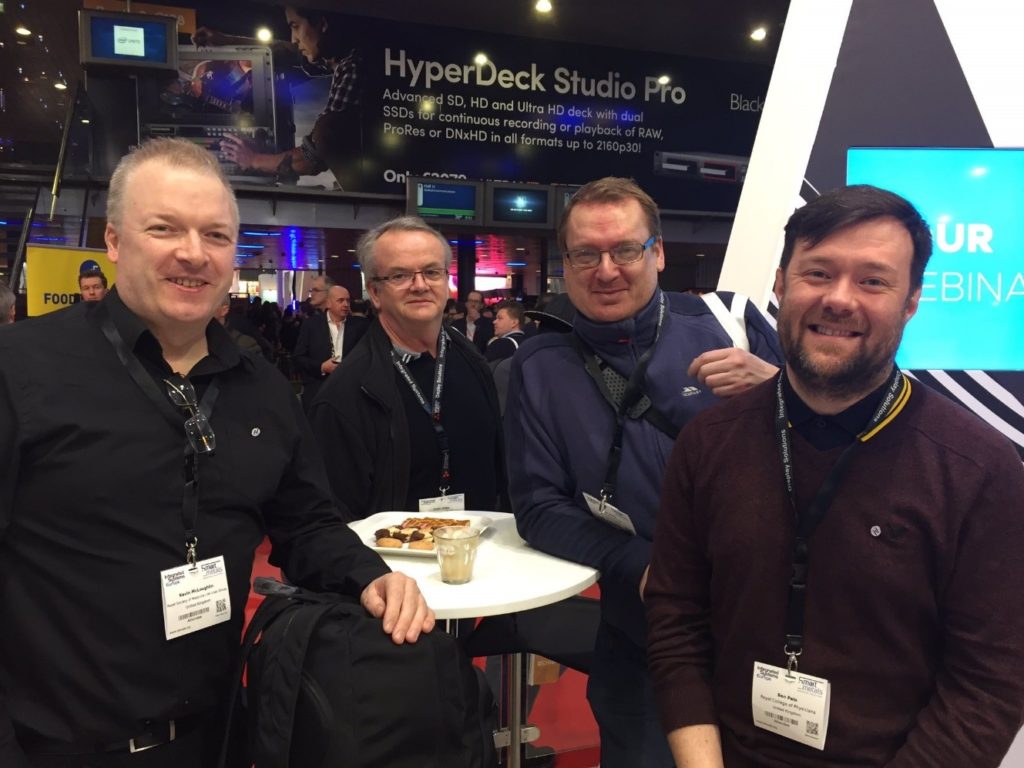 This year's ISE is a wrap. It is the place to go for Professional AV and Systems Integration. It provides a unique showcase for technology solutions. This year, there were around one thousand two hundred exhibitors in the expo in fourteen halls, training opportunities, and conference presentations. If we are honest, it's very bright (lots of display screens that are very shiny), quite loud (in terms of chatter and equipment) and goes on for miles. I managed to cover thirty eight kilometres across three days in the pursuit of technology and solutions!
I've worked in a University for more than twenty years, and I'm keenly aware that the way we integrate technology, especially in the teaching spaces, helps to facilitate not only teaching and learning practices, but also the student's experience of it. I'm old enough to remember pushing some of the AV resources around campus (yes I was one of those guys!). Thankfully, the days of shared slide projectors, video players, overhead projectors, film projectors and even epidiascopes are long gone.
The modern technologies showcased at ISE represent a world of difference in a relatively short period of time. In terms of an analogy, it's now the nuclear age compared to the steam engine – almost anything is possible if you want to do it. Although, we do remember that technology is not the reason for most of today's innovative teaching, it's the foundation stone that most are built upon. Technology is, for the most part, the enabling tool.
ISE this year was a melting pot of both technology and systemic approaches; and it was noticeable that educational technology is at the fore of activities for many manufacturers – and it is a trend that continues to grow.
This year, more than seventy universities sent representatives to this four day conference and show in the Netherlands. We all attended for the same purpose. We all look to gain an advantage by understanding the technological developments coming along; which we can then bring back to the University. It inspires us to innovate our environment and systems.
From speaking to our counterparts, it seems like we are at an exciting time in terms of technology development in a technology rich world – although the pace of change can feel startling at times for some.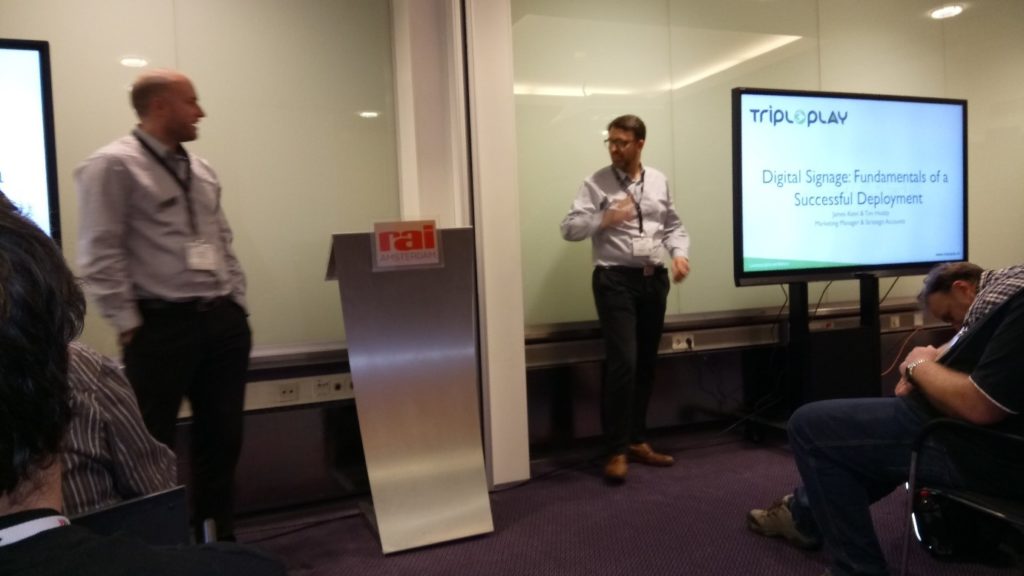 The conference included some presentations from some equipment manufacturers:
KRAMER – Interactive Technologies
CRESTRON – Video Distribution over the Network
REVOLABS – Video Conferencing
TRIPLEPLAY – Digital Signage
SENNHEISER – Radio Microphones
Within those sessions, it's also useful to look some of the senior management of the manufacturers in the eye and ask the awkward questions – such as 'why won't you standardise on a particular video transmission protocol?' You don't necessarily get an answer, but they know you're paying attention.
The theme of the conference this year was not focussed on a particular technology, but on a set of conditions. They obviously have technology behind them, but are not a single technology to enable it.
They were:
the use of technology to enable sharing of content (display sharing)
integrating systems to allow for reuse (digital signage and wayfinding)
scheduling spaces
collaboration
immersive technology
It's interesting to note that there hasn't really been a huge 'leap' in teaching technology for many years – just the quality of the audio or video has improved.
One of the processes at the front of our minds is, of course, TEF. As many of the measurable outcomes for TEF have a technology underpinning (the 'learning environment' and 'teaching quality'), it's important for us to know where we can go with what we can provide.
It seems that many companies understand that the education market has changed, and continues to move. Many have realigned their product range, or the way they operate, to reach out into the education sector. In the case of some of the manufacturers that we already use, they have actually designed products to suit our needs directly. Which goes to show that the efforts we put in at this conference pay dividends in enabling better support much further down the line.
So we are targeting our investments in the campus not only to support the staff, but also to meet the needs of our technology aware students. We are designing, and building, on campus, a set of technologies in each teaching space that will allow us to guarantee a set of functionality for 5 years from the point we build it. The inspiration is fed from two directions – the feedback from staff and students  - and from this conference. AV systems aren't really a luxury anymore, we really need to have them to facilitate the modern teaching space. We're trying to build a set of systems that widen the ability to do things in the teaching spaces, not restrict them.
There were also some technologies that we very hyped a few years ago that were conspicuous by their apparent absence. Things such as passive 3d (where you need the glasses) were very prominent a few years back, but have all but disappeared from view. Glasses free 3D replaced it almost immediately. However, the technology is still fairly crude.
It's interesting to note that as resolutions get bigger (there were many stands with 8K displays), then we already outstrip the ability of the human eye to make any sense of the level of detail anyway (the human eye is around 2K even in the sharpest of eyes!). One quirk is that with all the extra detail and information the human brain gives you a perception of depth of field. It may all become an academic exercise anyway.
That being said, I didn't see a 'Classroom of the Future' at ISE. I don't think anyone is that brave! What I did see though is some outstanding solutions, technology and ideas for how we may continue to improve in future. These will all transition into the campus at some point in the next year or two (or more!), as we get the chance to improve the systems we already have.
If anyone would like to see it, I have produced a report on some of the highlights of ISE for this year (from an AV in teaching perspective), and I have a large assortment of collected contact details and information from most of the manufacturers on show.
Rest assured that we don't sit still for very long. We've already got the refurbishment of 3E, 6E and 1WN in the pipeline for later this year – and East Building to follow along behind that! Some of the things I've seen are already making their way into plans, and three of the manufacturers are visiting the campus this week!