This week I went to the Digifest conference which is run annually by Jisc. This year it was held in the ICC in Birmingham and theme for the conference was "the power of digital" and the potential of transforming the student experience particularly with regard to learning and teaching.
There were a number of talks I was interested in so, as I wasn't able to clone myself (maybe look at that for next year's theme, Jisc?), I had to choose wisely. Talks were wide-ranging and included available and future technology , best practices and case studies. A very interesting mix indeed.
The conference opened with a plenary which had members of the Jisc team talking about what was to come. It was very inspirational and made me look forward to the next two days.
I won't go in to every session I attended as this will end up as an inordinately long blog post but I will probably follow up with further posts as I consider how it would be relevant to us here in Bath.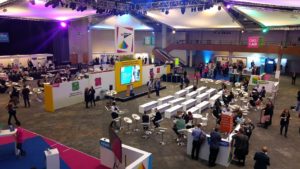 Building digital capabilities within your organisation
There were three teams from different universities talking about how to build digital capabilities and their approaches to this. It turns out that there is a lot of good work going on out there surrounding this and a common theme was the use of the Jisc Digital Capabilities Discovery Tool as a base to work on. In fact, this seemed to be a common theme throughout the conference.
Ross Anderson from the University of Hull talked mainly about staff engagement. One thing I found really fascinating was the gamification of learning and how it fitted in to their blended learning approach – having teams compete with each other to get to the next digital level. He also talked about having student and staff Elearning champions and peer training sessions in each department so that different groups of learners could get on board. I also thought that having a set of blended learning standards could ensure the consistency and quality of the material.
The University of Brighton looked at having a two lists of competencies – core (essential for everyone) and further (role-specific) which was an interesting approach. They also used strong visual resources to promote the digital literacies framework.
Nottingham Trent University went further to talk about how training could be taken one stage further – not just teaching people how to use a product such as Outlook but how they can use it in their particular role (such as managing your inbox). This is one thing that I think I will definitely be looking at taking forward.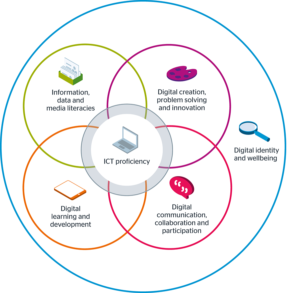 Staff digital skills capabilities
Deborah Kellsey Millar, Digital and IT Director for Salford City College talked about using a step by step model towards organisational digital capability and the use of the discovery tool to achieve this. She also explained about their use of the Learning Wheel to model digital pedagogy and the introduction of the DigiPals service. This is where learners and Educational Technologists can provide tricks and tips for people who use digital resources in their learning in a friendly and approachable way using a web site and social media. I believe that having these accessible and readily available resources in a variety of formats increases uptake and buy in from a wide variety of providers.
Next, implementation of Lynda.com by Steve Rowett from UCL. They embedded Lynda.com packages within courses by using playlists which provided some context for the topics that academic staff taught. It also meant that students could learn what they want, when they want. They have had a big uptake from both staff and students for this but he said that marketing in the right way, at the right time is key and to get a marketing plan together before you even think about launching it to maximum effect.
Students' expectations and experiences of digital technology
For me, this was one of the most relevant talks as one of the biggest issues I face being in charge of IT communications and training is student engagement and communications reach. There were students from different institutions talking about what worked for their organisation.
The University of Northampton surveyed their students and one of the most important things that came out of that was access to devices and WiFi. I think this is probably important to a majority of institutions as more and more students bring their own devices. They also asked students to complete the statement "When digital technology is used on my course…". Apparently, it gave some interesting answers and they will be providing further detail on this soon.
Epping Forest College said that they engaged more when they linked in to other general events such as Safer Internet Day. I think that collating a list of events such as these would help with planning communications and improve reach. They also had students who were Digital Voice Experts and they were given specific training in topics such as video production as an incentive. They would also have access to a social media account to tweet to other students on behalf of the college which meant it was more relevant and students didn't feel like they were being talked down to. Zac, one of the students who was responsible for the social media aspect, managed to get Epping to number one in the Edurank league table for social media. Something we could definitely work on.
The University of Stirling made use of "Happy or Not" consoles which you may have seen in airports and train stations where students could press the relevant "face" depending on how they found the digital learning spaces on campus. This was used in a business case to get these refurbished. They also had "WiFi wizards" - students who were able to help others with WiFi issues and report any common issues to the Service Desk.
Augmented and virtual reality
Now the exciting bit! During the conference, there were a number of organisations who showcased the latest products they had on offer. Personally, I found the most exciting products on show were:
HoloLens made by Microsoft - This is a pair of glasses that uses augmented reality. They were demonstrating anatomy and it was really weird having a transparent "person" standing in front of you with organs that you could "tap" on to find out more and walk around the "person" as if they were actually standing there. I think this could be really useful in applications such as mechanical engineering research where you would not need to build expensive physical models to see how they would look and interact but build it "virtually" instead. In fact, we have one of these available to loan, so let us know if you wish to utilise it!
 Samsung Gear VR – they demonstrated this using a lab safety scenario where you could walk around a lab and interact with items there and find out how to keep the environment in a lab safe such as storing chemicals and wearing protective clothing. This is a good idea as you can ensure students are aware of lab safety before they even step into a physical lab.
Dundee and Angus College gave a very good presentation on the work they have been doing in creating a Learning Lab where they provided a space for staff and students to drop in and have hands on experience of the different technologies out there including VR headsets, 3D printers and augmented reality.
Closing plenary
Lauren Seger Weinstein, chief data officer at TFL gave the closing talk on how they were using data to improve the efficiency and customer experience of the public transport network in London. She talked about creating trust whilst giving an excellent customer experience with innovation whilst providing excellent value for money. They are very data rich and provide a lot of open data for use by academic institutions. This could really be useful for researchers looking at transport issues across the city.
One initiative they have implemented is to let customers know the busiest times in their underground stations. This means that if you are an occasional user of a particular station and you are flexible with your travel times, you could travel at a quieter time for a more enjoyable experience. They gathered data from the number of devices connecting to their WiFi service together with the footfall through the automatic gates to produce this information. I think this is possibly something we could be using in our Library and other PC spaces so that students know when the best times are to access a PC.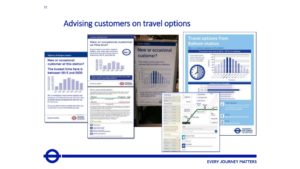 Final thoughts
All things considered, it was a very enjoyable and informative event. It was useful to hear from other institutions, particularly with regard to the initiatives they have carried out and how it was received. If you do get a chance to go, I would thoroughly recommend it and if you did miss this year's conference, then you can find slides from some of the talks on the Digifest website. And you never know, you could also win one of their competitions - I can't wait to try it out...