Simple answer - you can't! But only because it's called 'Sign out' in Windows 10!
The other thing you need to know about signing out from Windows 10 is that it's not a 'Power' option - i.e. you won't see it if you click on the

button (which also answers the question many have on computers that don't offer the

button)
"So, what do we do instead?"
Instead, click on

(you'll probably see your name when you hover over it) and select 'Sign out':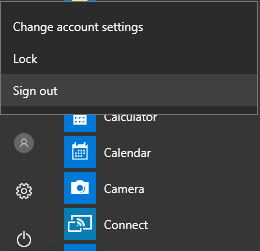 As you can see, this is also the button you need to change your account settings or lock your computer (although I prefer to hold down the Windows key and press L).