As part of our commitment to keeping our PC estate up to date, we have rolled out Windows 10 to all PCs in teaching spaces, public access computers and labs.
This does mean that there is a different look and feel to the operating system. This includes how you sign out of the PCs.
How to sign out
You can find the 'sign out' option in the Start Menu at the bottom left of the desktop under the profile

 icon: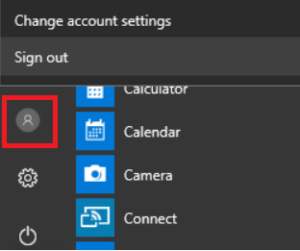 Find out more
We offer self-paced training in Windows 10 and there are many guides on the Microsoft website. We also offer guidance in the Self Service Knowledgebase.