The process for requesting new IT equipment has been streamlined.  The biggest change being that staff will now complete a specific form when requesting a University funded desktop, laptop or tablet, instead of approaching IT supporters or the IT Purchasing team directly.
The new forms should speed up the process of ordering new IT equipment, which will capture specific information, such as what the device will be used for and what software will be required.  The submitted information will be passed onto an appropriate supporter, who will liaise with the staff member, to ensure the information is correct.   The staff member will be guided and supported throughout the process to ensure the most appropriate device is ordered for their needs.
There are different versions of the form depending on the type of order:
New equipment for a brand new role
Requesting a replacement desktop PC, laptop or tablet
Please note: the process for procuring IT accessories has not changed.
The new forms can be accessed via the Self-Service Portal .
Example images of the forms can be viewed below:
ITP Forms on the Self-Service Portal 
Form to request equipment for a newly created role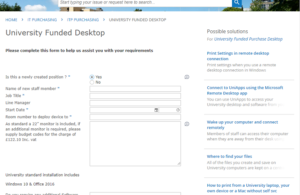 Form to request replacement equipment