Introducing Yammer
We're excited to introduce the next Office 365 app to the University, known as Yammer!  It's a social networking tool, similar to Facebook and Linkedin, enabling you to connect and engage with colleagues across the University and around the world.
Features of Yammer
Discover the latest posts with discovery feed
Search for experts and tap into their knowledge
Attach a file, gif, photo or video to enhance your post
Broadcast your message to a large audience, across departments, the University or even external organisations
Join groups to stay informed, connect with your community and gather ideas
Follow colleagues to receive updates when they post
@mention someone to loop them into conversations
Like, reply to and share information and ideas
Subscribe to email updates, to keep in the loop of the groups you're interested in
Praise someone for a job well done
Getting help and support on Yammer
Yammer opens up a great support network for staff and students, providing a platform to ask the questions you haven't been able to find the answer to.  What's more, the Office 365 Champions are already there waiting to answer your questions on anything Office 365. Join the 'Office 365 Community' for a taster of what Yammer is all about and maybe even post your first question. Interested in becoming a Champion? Find out more and register your interest.
Outlook, Teams or Yammer - where to start a conversation?
You may be unsure of which communication-based app to use in different scenarios but they all serve different purposes and ultimately help you to be more productive. The inner loop, outer loop and open loop are important to keep in mind when deciding Outlook vs Teams vs Yammer.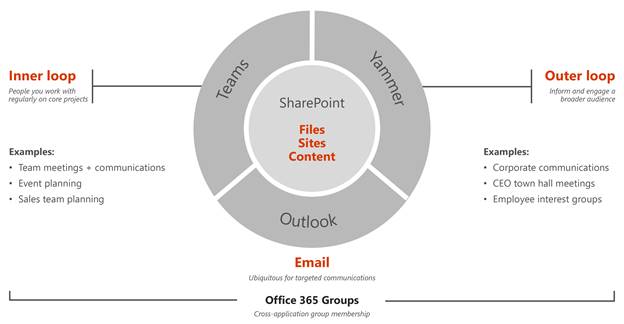 Use Outlook for:
targeted, formal or sensitive communications
scheduling meetings
information which shouldn't be shared broadly
Use Teams for:
scenarios where you are working with a group of people e.g. team meetings and communications, project work etc
conversations that are informal and chat-based
fast messaging and real-time feedback
sharing information and collaborating
Use Yammer for: 
locating someone with certain expertise
sharing messages to a larger audience, e.g. the whole University
asking questions and exchanging ideas
sharing  information and collaborating
informal and formal communication