The Process Champions network is a group of approximately 100 colleagues established across the University to extend the good practice and to help with the groundswell of process improvement work that would otherwise not be possible.
The group met on Thursday 18 July 2019, which was the last of its meetings in the 2018/19 academic year. It was a good turnout given its summer holiday time and considering the other training commitments that were taking place that week.
Alex Butler (Chief Digital and Information Officer) attended the meeting to provide an update on the direction of the Computing Services department and also helped to set the scene to the active and interested stakeholders from across the University.
Awards
The following awards were presented to Process Champions for their process reviews:
Becky Gallagher, SU: Students volunteering in local schools
Lucie Allott, School of Management: REF 2021 – Production of Publication Development Documentation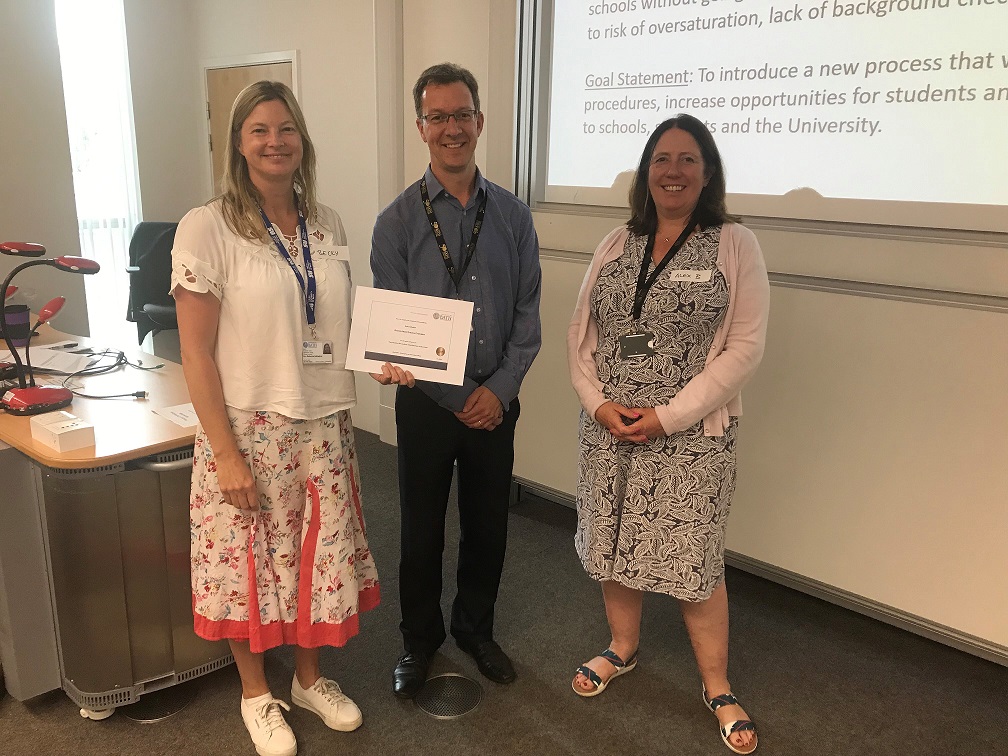 Process design challenges
There are many process initiatives taking place amongst the Champions Network and across the University.  Whilst some of these initiatives have been implemented, it has become apparent that there are challenges that get in the way of their progress.  Negotiation and influencing skills have been discussed at previous network meetings as tools to combat these challenges.  In this meeting we used a 'real-world' University example, to develop action plans to facilitate progress.  Using a project management and collaborative approach with stakeholders also eased some of the challenges.
The group discussed the support available when faced with challenges and it was decided that the best approach would be to communicate with others in the network, who may have encountered a similar issue and to try to find a solution together.  To assist with this collaboration, we are about to launch a Microsoft Teams site for the entire Process Champions Network, which will include some channels for special interest areas such as the 'Student and Staff Journeys', 'Agile Working', 'Change Management' etc. This is an exciting development to help collaboration across departmental areas.
You can find out more about the Process Champions Network on their Wiki page.  Alternatively, you can get in touch with Mark Ricketts or Adele Draper.