At the start of the year we were visited by a colleague from another university who was interested in finding out how and why we run out agile processes. He promptly wrote up what he learned and has been waiting patiently for me to post it to the blog. Here it is!
---
My name is Kevin Mears, I'm a senior Web Developer at the University of South Wales. Why am I writing on the Bath digital department blog? It's not some elaborate hack but part of my deal with Phil Wilson, the Web Development Manager, who allowed me to visit and pick their brains on condition I wrote a blog post. So here it is.
The idea to visit came about after catching up and chatting at a few web conferences and realising that we share common problems and concerns, but have different ways of tackling them. I've been a big fan of the communication on this very blog and the work they've done developing in the open.
With my university having recently undergone the major change of merging it seems a good time to rethink and examine what we do, how we are set up and how we can do it better.
The opportunity to go and observe in the wild was too good to miss, even if I did feel a little like Stanley Windrush in I'm All right jack.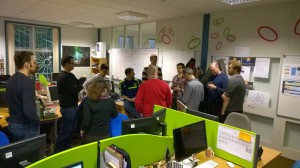 The day started with a quick fire round of introductions and then the team standup at 9:45. If you're really interested in standups as a concept this article is very thorough. The standup went pretty quickly for a group of 12. I liked that it shows you can a have formal process, with a simple format that is also quick and informative. The next checkbox for Agile development was a retrospective.
The retro was a look back on a piece of work that some of the team had been involved in to organise and improve the templates on the CMS system. The act of writing down on post it notes, the good and bad things about the previous sprint provided a simple but effective method for everyone in the meeting to quickly pick over the bones of the work and decide on the next course of action. Important in this process was for a member of the team to volunteer to run the retro, by setting timings and keeping discussions focused - espcially when some interloper was interrupting.
Some of the highlights that were mentioned were
Dealing with debt, which I think is a common ongoing issue with in-house teams where it can be easy for workarounds and less than ideal solutions to stick around. Everyone should at least read about what is is
Workshop format proved useful when collecting information about the templates and getting team members in an extensive sorting exercise to quickly get a picture of the problem was valuable.
Identified the process and the system as something suitable for a Show and Tell (more on them later)
Some code was produced that made the process possible and can be reused in future.
The next stop for me and my clipboard (not really) was to have a chat with Liam (Web Designer) about the kind of design work that comes into the team and how he goes about implementing work - we even managed to talk about front end frameworks without it descending into a religious discussion about this versus that. And we somehow ended up talking about google spreadsheets.
After lunch, complete with some kind of technology from the future - you take a hunk of plastic to your table when your order your food and when it's ready it lights up and vibrates. You then have to wave it the air so that your food can be brought over. I enjoyed it.
I then got an overall picture from Ross how the things that the team are trying to do have been declared in the Bath digital strategy.
I liked the level of interest and support that is evident from the relevant steering group that enables the team to get on with the operational level of work. Seems a sensible approach to have committed and talented people in roles and then let them get on with delivering the strategy that's been agreed (and put in the open).It was great to get a more overall view of where all the activity fits and a sense of a wider vision that ties it all together with a compelling narrative.
One aspect of the day that it wasn't possible for me to join in, but was explained is the intriguingly named Triage. This is where work that has come is assessed and then actioned. The team uses Trello. There are lists for Work recieved, Work queried, Agreed and queued and Stopped. Triage is the process of examining the work and deciding what needs to get done (or not) and when. The boards are then available for everyone on the team to pick up - the emphasis being on managable chunks of work that get done, building momentum for the projects and the team.
It was about time for me to leave, but Tom Natt was kind enough to outline the team's approach to Show and Tells. They are held every 2 weeks with 4 or 5 people from the team volunteering to talk briefly on something of interest - the example from the retro I attended would be for someone to talk about the script that Tom wrote to make tracking down and managing templates easier. To keep it short and sweet, there's typically a 1 slide maximum rule and people have to keep it brief for everyone to fit into the 1 hour slot. Tom also talked about his efforts over the years to reach out to other developers in various outposts around the university. A pretty thankless task but something that struck a chord with me as something that we could definitely try to replicate at USW.
Lastly I grabbed Miles, (Web Content Editor) to thank him for his help over twitter before Christmas when I was dipping my toe in the content audit waters, and he provided some great examples and resources to set me off in the right direction.
As is usual with so much activity and process to take in, I'm sure I could spend a week and still have tons of questions to ask, but I am so glad I made the effort to get over and see how others do things.
---
Phew! It was great having Kevin in for the day, since it's always interesting to hear how other groups like our are working. Luckily for him he arrived during a very busy week and got the raw Digital department experience rather than a nicely prepared (but very safe and arms-length) overview. We don't have everything quite right yet, and our processes are changing as we review them; why don't you come down and find out for yourself? Just drop us a line in the comments below or send me an email. Even better if, like Kevin, you deliver an awesome hand-drawn picture of the team like this!