The new Agresso website has been well-received by users, and has even been praised by other Universities. It couldn't have been created without the collaboration of Digital Marketing & Communication and the Agresso team, and the (for us in the Agresso team) novel and effective way that the Digital team operate.
The goal
Agresso is the finance system the University uses. A new version was being launched on March 11 and this was the perfect time to update our web pages that provide guidance to staff on using this involved and technical system.
Previously information on Agresso could be found on three different sections of the University website, on an older template than that used as standard by bath.ac.uk. Our goal was to create a single website providing information for Agresso users, which can be referenced when the new version of Agresso was launched.
Sprinting for the finish
The Agile project management approached used by Digital was new to us, and proved to be a very effective way of working for this project.
In a short two-week sprint, the entire website was conceptualised, developed, constructed,tweaked and delivered – on time. I was pleasantly surprised that it was possible to implement such an extensive and complex project - more than 100 individual pages across multiple levels of navigation, laden with screenshots and videos -  in such a short space of time, but the Agile process enabled us to work efficiently, with clearly defined short-term tasks and visibility of what others in the team were doing.
The dream team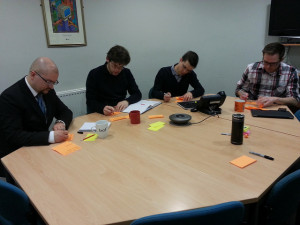 An advantage we had over some other departments was that Jennie and I were able to devote a large amount of our time over the sprint to the project.
Having specialists from both sides of the project – two members of Digital with in-depth knowledge of CMS and web standards, and two members of the Agresso team who knew their way around the Agresso software – devoting most of their time to the sprint covered all our bases.
A small, focused team, with specific tasks assigned each day to each person, made for a fast, efficient project run.
The daily stand-up meetings in our office meant that no issue went undiscussed, and enabled us to quickly update all parties on progress and assign new tasks as they arose.
It's not all beer and skittles
During the process of developing the site, a number of issues threatened to derail the process. Foremost was the hundreds of screenshots we had, which the CMS does not handle as well as we might have wished. Resizing and recreating these took up large amounts of time.
We also encountered issues with content readiness – whilst some content was prepared in advance, other areas were still being written right up to the last day of the sprint.
The effectiveness of the short timeframe in focusing the work is unquestionable, but it also meant that idea or developments which arose too late in the sprint were not implemented, there being simply too little time left.
Lessons learned
Working with Digital has been eye-opening. Aside from the effectiveness of their project management, Jennie and I learned a huge amount about using the CMS - to the extent that we are now happily maintaining the site independently.
Having content written in advance was a considerable time-saver, even if it was in an awkward file format.
I'd recommend that any department having their pages updated try to dedicate at least one of their staff to the update process for the week or two weeks that it takes.
We've produced a suite of web pages that are accessible, well-designed and the envy of at least a couple of other universities. Whilst there are still improvements to be made, the knowledge we gained means we are now able to take ownership of these pages.
It's a tribute to the effectiveness of the Digital Marketing & Communication team's working practices that this substantial project was delivered to a tight deadline and with such an effective design structure.