When we upgraded blogs.bath.ac.uk in March, it was the first step in our ongoing mission to improve our provision for blogging. Tom T and Dan returned to blogs.bath.ac.uk last week to make a series of improvements based on your feedback. Our changes went live on Monday and we're excited to share them with you.
A new blogging directory
The blogs.bath.ac.uk landing page previously displayed all the latest posts from blogs across the network. This meant that the selection of blogs discoverable from the landing page changed from day to day, with less frequently updated blogs getting lost in the shuffle. We've now changed this to a list of all our blogs, although you can still view all recent posts from across the network. The search tool has also been removed from the homepage, as while you can search within individual blogs, we don't currently offer a search across the whole network.
Clarifying our colours
Following readability issues in some browsers, we've changed the main text colour to a darker shade. The default link colour has been changed from pink to blue, although you can still see a pop of pink on hover.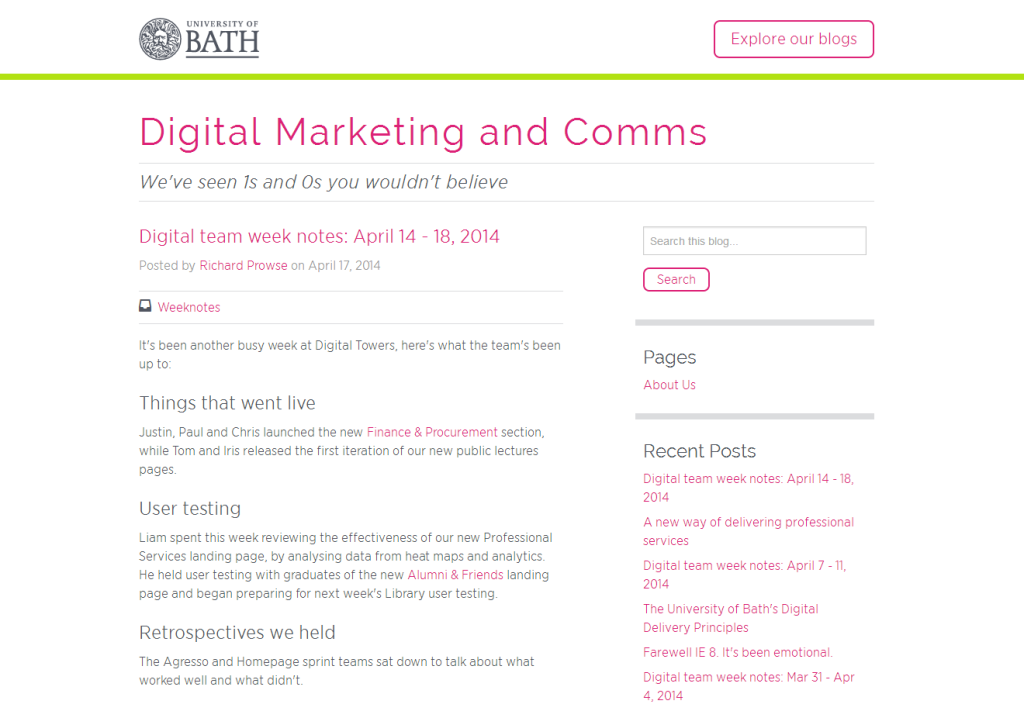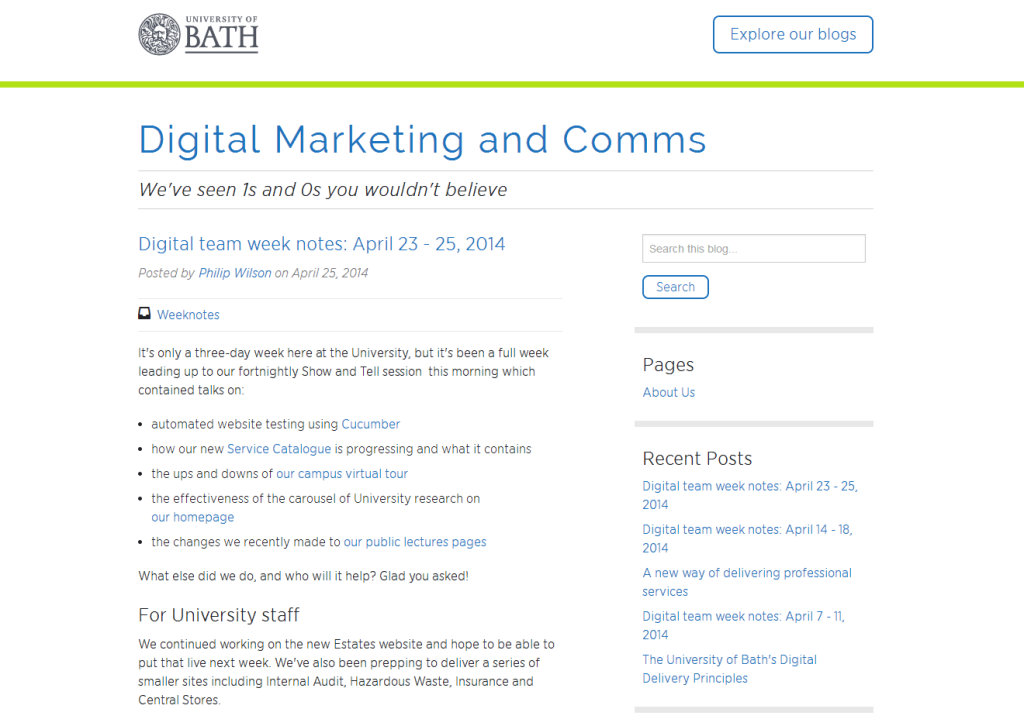 We also set the default colour of the customisable stripe in the header to grey (although we've chosen a fetching green for our own blog). You can pick your own custom colour in the Dashboard under the Appearance menu by selecting Customise.
Space to breathe
We've increased the spacing between blog articles and improved the spacing in the header, particularly on small screens. We've also tidied our caption formatting and added more space between the bottom of captions and the top of the next paragraph, so your images and captions can really stand out.
Fixing up the footer
The "More blogs like this" section in the footer of each blog has also been reworked for better readability on mobile devices. Links will now fit the full width of small screens, rather than squeezing into two narrow columns. We've also fixed the link to the administrator dashboard and updated the default branding image from a GIF to a shiny new PNG.
What's next?
We've still got plenty of improvements planned for blogs.bath.ac.uk, including analytics for bloggers so you can see where your audience comes from and what your most popular posts are.
If you're not part of blogs.bath.ac.uk yet but would like to be, find out how you can start a blog.