I'm not sure it's healthy to have a favourite meeting, is it? But I do.
The Digital team holds an hour-long Show & Tell session every second Friday at 10AM in 2 South. I love it and if you are a member of staff or a student at the University of Bath, you should come along and find out what's been going on in Digital.
Folks in the Digital team use the Show & Tell to demo work in progress or that's recently shipped. You can see the sorts of things that people demo and what's coming up at the next sessions via the Show & Tell page on our wiki.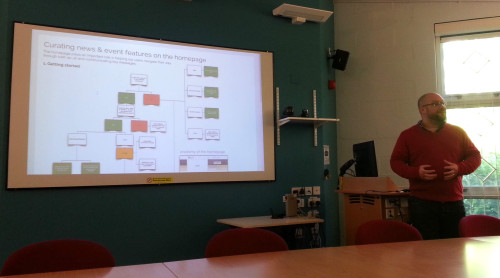 Format
The format is simple. Presentations have to be about digital and be of relevance to the University. There are up to 5 presentations per session. Each presentation lasts 5 mins, followed by up to 5 mins of questions and then a supportive round of applause. There's a facilitator at each session, who takes care of the set up, moderates and keeps the atmosphere light. Within those constraints, the subject, format and style of presentations is up to the presenter.
It's not just the Digital team who present. We can also accommodate one guest presentation at each session, and a good number of teams have taken up the opportunity.
Benefits
Show & Tell was something that we did regularly at the Government Digital Service and I wanted to bring the practice across with me when I joined Bath. We started off running Show & Tell as a 'Digital team only' affair, until we got comfortable with the format and with being stood up there in front of colleagues explaining what you've being doing for two weeks in less time than it takes to order takeaway. Then when we were confident that it was a useful session, we started opening up to attendees from other closely-related teams as well as opening up the agenda.
This invitation to encourage any staff and students to pop along to Show & Tell development is in keeping with our delivery principle of working in the open. We have also decided that now is the right time to try to post a write-up of each Show & Tell, here on this blog, for the benefit of those who can't make it along.
Show & Tell works for us. It's brought our team together and made our work better. I recommend setting up your own Show & Tell in your team or organisation. In the course of a busy fortnight, we've carved out a bit of space to lift our heads and make sure we know what our team mates are up to, what they're proud of and where they could be doing with our help. It's always informative and it's usually light-hearted too, which lifts the spirits.
As well as learning about our own work, Show & Tell also provides an opportunity to learn about new industry skills and trends. Basically, as far as meetings go, this is about as useful as they get.
Come along 
The next Show & Tell is Friday 4th July at 10am in 2South.
If you want to come along, want to know more about a demo or maybe how to put forward your own talk, leave a comment or email web-support@bath.ac.uk.