A few days ago, Ross posted about our fortnightly Show & Tell meetings and mentioned that we're going to try to write about each meeting here on this blog. You can probably guess what this post is about!
This week we had five speakers, all with their own selection of interesting facts (and terrible jokes).
Social media audit - Charlotte, Iris
It turns out that we have over 300 social media accounts of various flavours. Charlotte and Iris explained how they turned cyber-sleuth and tracked these down and what they found. A follow-up presentation was promised when Takashi has finished analysing their data.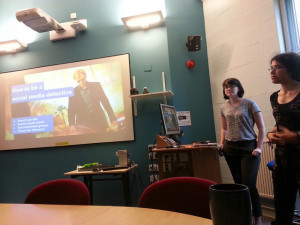 Research landing page - Miles
In the beginning there was a research landing page. That one didn't have any research on it. We replaced it some time ago with one designed around the needs of the people looking at it. In recent days, that page has evolved again into the new research landing page which not only puts the research output of the university front and centre, it is also much easier to maintain behind the scenes. Miles took us through the history of these pages and demonstrated the new release. There is a blog post coming all about this work.
Cache in the attic - Tom N
I have been investigating CloudFlare as a potential CDN for use at the university. In this presentation I explained what a CDN actually is, why we should care about caching and how all this could fit in here.
Open Day user testing - Dan
The University of Bath is known for the quality of its Open Days (ranked #1 in the Higher Expectations Survey). At the most recent one, Dan and Kelv were out asking potential applicants about their experiences using our Open Day website - gathering data which we can use to make the site better for next time. In this talk, Dan shared his experiences of talking to students and some of their findings.
Extremely Dashing - Phil
We have a screen in our office which has been sadly blank for several months. Finally, Phil grew weary of staring at the black rectangle and put together some lovely data visualisations using Dashing. This was his demo of that. Now the screen on the wall is lit up with ... a Linux login prompt. Still; progress?
You can see what's coming up at the next sessions on the Show & Tell wiki page. The next session will be on the 18th July in WH 1LT.